SEC Investigating GT Advanced's Trading Activity
It appears the United States Securities and Exchange Commission has launched an inquiry into GT Advanced's trading activity, according to a new filing released today.
The SEC sent a letter to GT Advanced on October 15, letting the company know that it was seeking "certain information regarding trading activity in the Company's securities," along with more information on its sapphire business and securities offering dating back to January 1, 2013.
Shortly after GT Advanced filed for Chapter 11 bankruptcy protection, it became clear that GT's CEO Thomas Gutierrez and COO Daniel Squiller had been selling off large amounts of stock, with some of the plans put in place just after production troubles surfaced in February 2014.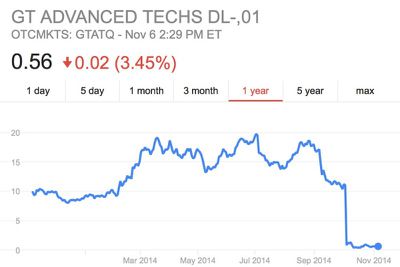 Gutierrez sold off 9,000 shares of GT Advanced stock a day before the iPhone 6 was announced as part of a pre-arranged Rule 10b5-1 Plan enacted in March. He earned $160,000 from that particular sale, but had also sold shares on several other occasions in 2014, netting more than 10 million dollars. Comparatively, Gutierrez sold no stock in 2013, ahead of the company's Apple deal.
Squiller sold $1.2 million worth of stock in May, and made plans to sell off additional shares throughout 2014, garnering an additional $750,000 before the company's October bankruptcy filing, and it appears that the well-timed divestitures have roused suspicion with the SEC.
After GT Advanced inked a deal with Apple in 2013, its stock began to rise significantly on rumors suggesting Apple would use the company's sapphire in its iPhone 6 and 6 Plus. Stock prices went on to fall more than 1/3 in September after it became clear Apple had not opted to use sapphire for the devices.
According to court documents and leaked information, the deal between Apple and GT Advanced soured over the latter company's inability to hit necessary milestones and the strict contract terms that Apple imposed on GT. Additional court documents were recently unsealed, and new details on the relationship could come to light as soon as tomorrow.
The two companies have already signed an agreement to dissolve their relationship, with GT Advanced planning to decommission and sell off furnaces to repay the $440 million it was loaned from Apple. GT has already begun shutting down its Arizona plant, with a final shutdown planned for December 31.