Intel Developing New 3D Camera Business, Aiming to Replace Passwords With Facial Recognition
Earlier this year, Intel demonstrated an impressive wireless cable computer system made possible with Skylake, Intel's next-generation chip technology (after Broadwell). At a recent venture capital event, the company showed off even more of its upcoming technology, including a face-recognition 3D camera system that aims to do away with passwords and allow for new methods of computer control.
As detailed by The Wall Street Journal, Intel's "YAP" concept (which stands for "you are the password"), is designed to recognize a user's voice, face, or fingerprint, to allow biometric access to a device. Kirk Skaugen, in charge of Intel's PC chip business, believes that such technology could be coming to computers as early as next year.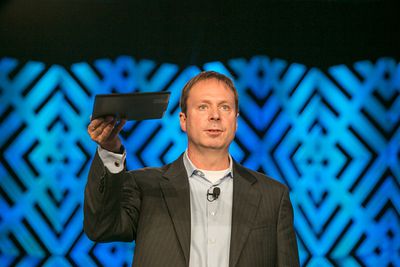 Intel's Kirk Skaugen


Facial recognition capabilities are mainly enabled through new camera technology that's able to create 3D models, which can also be used for other methods of computer control. According to Skaugen, the cameras could track a user's facial expressions and map them to an animated avatar.
Intel's betting big on camera technology able to scan and create 3D models and will create a new 3D camera business. "We are planning to be the number one 3D camera manufacturer," said Skaugen.
Apple itself may be working on similar technology, as in 2013 it acquired PrimeSense, a company that specialized in 3D sensing and scanning techniques. Apple has not yet produced a product taking advantage of PrimeSense technology, but rumors have suggested its gesture-tracking features could be built into the Apple TV.
Just today a rumor coming out of the Asian supply chain suggested Apple's working on a glasses-free 3D display for next year's iPhone, which would go hand in hand with 3D camera technology possibly being developed by former PrimeSense employees.
During the event, Skaugen also commented on the production of Intel's next-generation Broadwell chips, which is said to be ramping up to millions of units. Ultra low power Core M chips are already available, and Intel is prepping to release its main Broadwell chips in 2015.