iMessage and FaceTime Ranked as Most Secure Mass-Market Messaging Options
The Electronic Frontier Foundation or EFF, a non-profit digital rights group, has investigated the security of various messaging apps and created a new Secure Messaging Scorecard, ranking messaging apps and tools like iMessage, FaceTime, BlackBerry Messenger, Skype, Snapchat, and more, based on seven different factors:
- Is a message encrypted in transit?
- Is it encrypted so the provider is unable to read it?
- Can you verify contacts' identities?
- Are past communications secure if keys are stolen?
- Is the code open to independent review?
- Is security design properly documented?
- Has the code been audited?
Unsurprisingly, the apps that score highest on the EFF's chart are those dedicated to secure messaging, such as iPhone apps ChatSecure, Signal, and CryptoCat, both of which scored checkmarks in all categories.
Apple's iMessage scored five out of seven checkmarks, earning points for encrypting messages in transit and encryption that's unreadable by Apple, but the messaging app was faulted for an inability to verify contact identities and the fact that Apple's code is not open to independent review.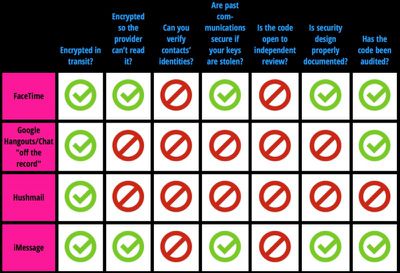 FaceTime was scored in the same way as iMessage, also offering encryption but no contact verification/independent review capabilities. Outside of dedicated secure chat messaging apps, both FaceTime and iMessage scored higher than competing messaging platforms like Skype, WhatsApp, Viber, Snapchat, Kik, Google Hangouts, and BlackBerry Messenger.
Few of the competing messaging services offer encryption that prevents the companies offering the services from accessing messages, though all encrypted messages in transit. Most iMessage/FaceTime competitors also fail to secure past communications if keys are stolen, and few had properly documented security design. QQ, a highly popular Chinese messaging app, failed at providing any of the qualities the EFF was looking for in a secure messaging app, not even bothering to encrypt messages.
According to the EFF, Apple's iMessage and FaceTime products were the "best of the mass-market options," which is not much of a surprise given Apple's unparalleled focus on user privacy. Apple has a comprehensive privacy site that details all of its privacy policies and the security of various apps and services, including iMessage and FaceTime.
On the site, Apple specifically says iMessage and FaceTime calls "are your business, not ours." The company offers end-to-end encryption and Apple has no way to decrypt it. "Unlike other companies' messaging services, Apple doesn't scan your communications and we wouldn't be able to comply with a wiretap order even if we wanted to," reads the site.