First iPad Air 2 Reviews: 'Ridiculously Fast', 'Vibrant Display', Thinner Profile Comes at the Cost of Battery Life
Following Apple's October 16 event that saw the debut of the iPad Air 2 and the iPad mini 3, Apple provided multiple publications with review units. The embargo has now lifted on review posts, so we've gathered some of the relevant excerpts from each site in order to highlight general release reactions to the new tablet.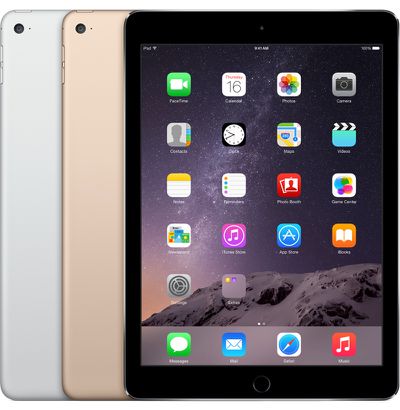 Apple's iPad Air 2 is an entire millimeter thinner than the original iPad Air, and Apple has billed it as the thinnest tablet in the world. It offers a new A8X processor, Touch ID fingerprint support, an anti-reflective screen coating, 802.11ac Wi-Fi, and an improved 8-megapixel rear camera.
Walt Mossberg, Re/code:
So when Apple brought out new iPads last week, and I had a chance to test them over the past four days, you might think I'd be pretty excited about them -- but I'm not. They are, in most respects, the best iPads ever made. But for average users, they represent only a modest evolutionary improvement over last year's models, not the kind of big change that the first iPad Air or the Retina display iPad mini did last year. [...]

The Air 2 didn't allow me to hold or carry the tablet longer and more comfortably than the Air. Its weight of 0.96 pounds isn't discernibly lighter than the Air's weight of one pound. And its thickness of 0.24 inches is a barely noticeable reduction from the Air's 0.29 inches.
Nilay Patel, The Verge:
The Air 2 has a vibrant, sharp display that looks almost painted on. Apple says the new antireflective coating on the Air 2 reduces glare by 56 percent, but I didn't really notice it making a huge difference; you definitely can't use it in bright sunlight. [...]

Inside the iPad Air 2 lies Apple's new A8X chip, which is a variant of the A8 found in the iPhone 6 and 6 Plus with additional graphics capabilities. It's ridiculously fast -- noticeably faster to load web pages and launch apps than my iPad Air, and it has so much graphics headroom that I'm eager to see how game developers take advantage of it.
Darrell Etherington,
TechCrunch
:
The 6.1 mm chassis just makes all the difference when it comes to the Air feeling like something that you could comfortably hold for long periods of time, and even for all-day computing, should you need it (and it's easy to imagine an event coordinator, for instance, needing exactly that).

Our review unit came in Apple's gold finish, and let me just say that on the iPad, that means there's a lot of gold going on. Apple's take on this particular metal color is better than most, but this definitely isn't my favourite finish. The Air 2 in either space grey or silver still looks fantastic however, and the gold is definitely going to stand out in a crowd, especially if you're also using the iPad as a camera.
Brad Molen, Engadget:
A thinner profile comes at the expense of battery size. The new Air's is 5.1Whr smaller than the old one, but Apple still promises that you'll get the same 10-hour battery life because the A8X is more power-efficient. Real-life use shows that the original Air still rules the roost; after a day of heavy use, I typically went to bed with around 20 percent left in the tank. If you're only using it moderately -- say, for casual content creation or consumption -- you should get a little over two days. In our video test, in which an HD movie plays through the life of the battery, the Air 2 squeezed out 11 hours and 15 minutes, significantly lower than last year's Air and about an hour short of the Samsung Tab S. [...]


The Air 2 also doesn't have a mute switch, which I didn't think would be a huge loss until I actually found myself trying to use it and becoming frustrated more frequently than I expected. Your new options are to press and hold the volume down button or go into the Control Center and press the mute key; if you used the switch to lock screen orientation, you'll need to do that in the Control Center as well. A microphone now sits where the mute switch once was; there's another one right next to the camera.
Joanna Stern, The Wall Street Journal:
That anti-reflective screen also makes a great, though admittedly ginormous, viewfinder for snapping nature shots with the revamped 8-megapixel camera. It takes much crisper shots than before, and in many cases, ones as good as those I can take with my iPhone 6. But I won't bring my iPad to some mountain peak, as some Apple promo shots suggest.

Besides, when I set the iPad Air 2 down for a second on a bench, it slid off and hit concrete, shattering the screen. Sure, I'm to blame, but if Apple wants me to climb every mountain armed with nothing but an iPad, ruggedness should be as important as anti-reflectivity.
Harry McCracken, Fast Company:
The weirdest fact about the iPad Air 2 is that Apple isn't publicizing (or even acknowledging) one of its best new features. The tablet now has 2GB of RAM, up from the rather cramped 1GB allotment in the original iPad Air. (Some competitors, like the Galaxy Tab 10.1, have even more.)

Doubling the RAM means that the iPad can keep more apps and browser tabs in memory without having to reload anything. That results in a speed boost which which is very apparent as you hop between apps and load new web pages.
Lance Ulanoff, Mashable
To get an anecdotal sense of the performance, I installed a pair of console-level games: Asphalt 8 Airborne and Modern Combat 5: Blackout. Each of these games is notable for rich imagery and physics including smoke, water, rain, and reflections. The games looked and worked great on the original iPad Air and worked just as well — if not better — on the iPad Air 2.


However, Apple isn't just blowing smoke when it says the A8X is more powerful. I ran Geekbench 3 on both Airs and found that that Apple's A8X has 3 cores (the A7 had 2) and that the multicore score for the iPad Air 2 is nearly double that of the original Air. The singlecore score for the iPad Air 2 is only slightly better than that of the iPad Air.
Other Reviews:
Farhad Manjoo, The New York Times
Samuel Gibbs, The Guardian
David Pogue, Yahoo Tech
Chris Davies, Slashgear
Matt Warman, The Telegraph
The iPad Air 2 is currently available for pre-order from Apple's online store, with prices starting at $499. Apple has not yet revealed when the new tablets will be available in stores, but the first pre-orders will be arriving to customers this week.