A List of OS X Yosemite Apps With Notification Center Widgets, Share Support, and More
Yesterday, Apple launched OS X Yosemite which brought a complete redesign to the OS and a number of features like Continuity, an enhanced Notification Center with widget support, iCloud Drive, and more. A number of developers have updated their apps to take advantage of those new features, and we've rounded up some of the most notable apps for Yosemite below.
1Password ($34.99 for a limited time, usually $49.99) [Direct Link]
Popular password manager 1Password has received a number of new features that integrate with OS X Yosemite including support for Dark Mode, iCloud Drive compatibility for enhanced syncing between devices, and Wi-Fi sync which now works with attachments. The 1Password mini menubar attachment has also been refined, bringing faster access and new shortcuts.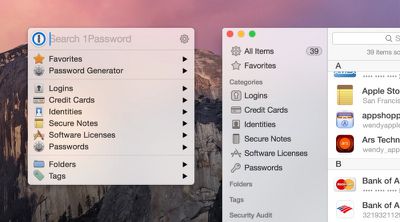 Coinverter (Free public beta) [Direct Link]
Daft Logic Studio brings its iOS currency converter to the Mac with a flat look that is in line with the rest of OS X Yosemite and a Notification Center widget that can display multiple conversions at once. The full version of Coinverter for Mac will launch soon, and interested users can participate in a free public beta.
Wunderlist (Free) [Direct Link]
To-do app Wunderlist for Mac has received an update to 3.1.0 and brings a number of new features for OS Yosemite, including a custom Today widget in the Notification Center, a custom Share extension that works in Safari, and full Handoff support which allows users to edit lists between devices. The app has also received a redesign that allows for quicker access to list elements.




Pocket (Free) [Direct Link]
Read-it-later service Pocket has received an update that now features its own share extension that allows users to save content in a number of apps, and a new design that gives a flat look. The service has also now integrated some of its premium features like full text search and suggested tags, along with a number of improvements like a dark mode for reading.
Deliveries ($4.99) [Direct Link]
Developer Junecloud has launched a Mac version of its popular Delivery Status touch app, and features its own Notification Center widget that allows users to track their packages along with the ability to share a shipment over email, iMessage, or AirDrop.


PCalc ($9.99) [Direct Link]
Advanced calculator PCalc is now compatible with OS X Yosemite and includes its own Notification Center Widget to perform calculations, Handoff support, and the ability to import custom calculator layouts created on iOS via iCloud. The newest version of the app also includes new themes, preferences, bug fixes, and more.


Monity ($0.99 until October 19) [Direct Link]
Monity is a system monitoring widget made for OS X Yosemite which can be accessed in the Today view inside of Notification Center. The widget can monitor a number of OS X statistics including system uptime, app processes, memory usage, battery life, network activity, and more.


CloudApp (Free) [Direct Link]
File and screenshot sharing app CloudApp has received a new update for OS X Yosemite which allows users to record their screen at 60 frames a second and a share extension that allows users to share content from their Mac to the service. CloudApp also supports Dark Mode and contains a number of performance improvements.