Retina iMacs and Apple Displays Within Reach as New DisplayPort 1.3 Spec Finalized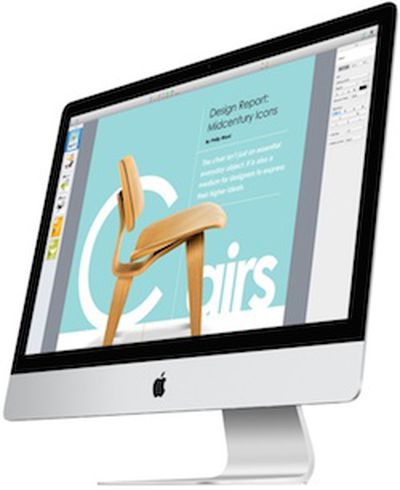 With Dell having announced its upcoming 5120 x 2880 "5K" display that would be the equivalent of a Retina 27-inch iMac or Apple Thunderbolt Display and Apple rumored to be launching its own such display later this year, connectivity options for such displays have now taken a significant step forward with today's official release of the DisplayPort 1.3 specification by the Video Electronics Standards Association (via 9to5Mac).
The new standard offers a 50 percent increase in bandwidth to 32.4 Gbps, or 25.92 Gbps of uncompressed video data once overhead is accounted for.
The increased bandwidth enables higher resolution monitors, including recently announced 5K monitors (with pixel resolutions of 5120 x 2880) using a single DisplayPort cable, without the use of compression. It will also enable higher resolutions when driving multiple monitors through a single connection using DisplayPort's Multi-Stream feature, such as the use of two 4K UHD monitors, each with a pixel resolution of 3840 x 2160, when using VESA Coordinated Video Timing.
Apple has been rumored for some time to be working on Retina iMacs and displays, but connectivity bottlenecks have been one of the factors slowing progress in that area.
The previous DisplayPort 1.2a standard offered enough bandwidth to support 4K displays without compression, but pushing resolutions to 5K has presented difficulties for connectivity. With the new DisplayPort 1.3 standard, which will presumably be built into future Thunderbolt implementations, computer manufacturers such as Apple will be able to fully support the new high-resolution displays set to hit the market in the coming months.