Apple Announces Apple Watch, Available in Early 2015 From $349
Apple today announced its long-rumored wearable device, the Apple Watch, which actually uses the Apple Symbol () followed by "Watch" in its name. Apple's Watch is designed to be both fashionable and functional, available in an array of different color and materials with six different types of watch straps that are easily interchangeable. Prices for the device, which will be available in early 2015, start at $349.
There are six different Watch face colors and materials: Stainless Steel, Silver Aluminum, 18-Karat Yellow Gold, Space Black Stainless Steel, Space Gray Aluminum, and 18-Karat Rose Gold.
There's the Apple Watch collection, which has stainless steel or space black stainless steel cases combined with a range of metal and leather bands, the Watch Sport collection, which includes anodized aluminum cases in silver or space gray with colorful, durable bands, and the Apple Watch Edition, which includes 18-karat gold cases in yellow or rose with "exquisitely crafted" bands and closures.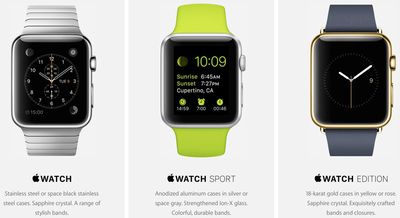 All of Apple's Watches can be customized with an array of different digital watch faces to suit different tastes. Each of the watches is available in two separate screen sizes for different sized wrists: 38mm and 42mm, and the watches have a flexible, durable sapphire display.
Apple's Watch uses unique input methods, taking advantage of the traditional watch dial or crown, which Apple refers to as a "digital crown" on the device. This scroll-type wheel allows users to zoom and scroll through various user interface elements.
The device also takes advantage of new pressure-sensing technology and is able to determine the difference between a tap and a press, allowing for a new range of contextually specific controls. A second physical button next to the digital crown lets users tap to bring up a list of contacts and then communicate with friends by sending quick drawings, messages, and animated emoji. It's also possible to send a heart beat, drawn from the watch's sensors.
Inside the device, there's a new Taptic Engine that allows users to hear and feel the design of the user interface. According to Apple, users will be able to feel and respond to notifications "easily and intuitively" through the Taptic Engine.


A new custom designed chip, the S1 processor, integrates many subsystems into one singular module. The back of the watch is constructed from zirconia with four sapphire lenses that can detect pulse rate. There is also a gyroscope and accelerometer, which helps the Apple Watch provide a comprehensive picture of daily activity.
The back of the device is also the home of Apple's charging solution, which uses a MagSafe with inductive charging. The user will not have to worry about exposed contacts or aligning the charger properly. Apple has declined to comment on battery life at this point.
Because it is a watch, the device is designed to keep accurate time, continually checking its internal clock against the definitive global time standard with the "precision found in GPS satellites." Apple's Watch is designed to improve the health and fitness of its users, and thus it is able to keep track of a variety of health metrics, accurately tracking movement and a wide range of activities. An included Activity App gives users an overview of their daily fitness levels, with three "rings" representing calories burned, exercise done, and how often a break has been taken from sitting.
There's also a Workout App, which shows real-time stats like time, distance, calories, and pace when working out. It's designed to encourage users to meet and beat goals, and over time, the Watch is said to be able to act as a personal trainer, suggesting new fitness goals.


Apple's Watch will support third-party apps, with support for both extended notifications from the iPhone and apps that run directly on the device. The Watch does rely heavily on the iPhone and does not function as a standalone device as it is designed to work with Apple's new Continuity features, letting users shift tasks from one device to another with ease.
The Apple Watch does include support for NFC, and it will function with Apple's new payment initiative, Apple Pay, which lets users make secure payments from the iPhone 6, iPhone 6 plus, and Apple Watch.
The Apple Watch will be available starting at $349, with users able to purchase the device in early 2015.