Apple Once Again Allowing HealthKit-Capable Apps in iOS App Store
Just before the public launch of iOS 8 earlier this month, Apple removed all HealthKit-enabled apps from the iOS App Store due to an last-minute issue with the service. Addressing the issue, Apple promised it was working on a fix with the goal to "have HealthKit apps available by the end of the month". As spotted by 9to5Mac, Apple is now allowing apps with HealthKit features back into the iOS App Store.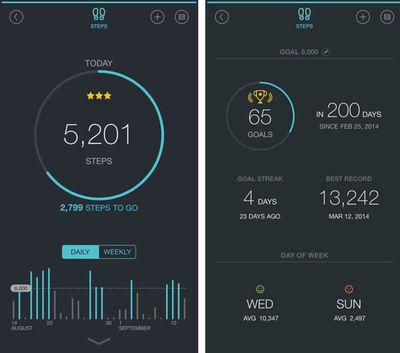 One of the first apps to debut with HealthKit today is FitPort [Direct Link], a replacement for the iOS 8 Health app. The fitness dashboard allows users both to view health stats pulled from Apple's Health database and to enter new data manually. Now that Apple is approving these apps, there should be a deluge of new HealthKit-capable apps appearing in the App Store in the coming days.
Apple planned to fix the HealthKit issue with iOS 8.0.1, but problems with cellular connectivity and Touch ID functionality on iPhone 6 and 6 Plus devices forced Apple to pull the update shortly after release. The company fixed these iOS problems and updated HealthKit in iOS 8.0.2, which was released late Thursday.