Apple Said to Plan October 21 Media Event to Launch New iPads, OS X Yosemite [Update: No]
With its iPhone 6 announcement completed, Apple reportedly is preparing a second announcement event that will will launch new iPad models, claims AppleInsider, citing a trusted insider familiar with the company's pre-launch logistics. The report points to the second half of October for the event, but The Daily Dot has gone a step further and predicted an October 21 event based on its own sources.
A person familiar with the company's pre-launch logistics says Apple has set internal project and marketing deadlines of mid-October, ahead of the planned unveiling of major new products during the second half of the month. That would align with an anticipated media event previously rumored to be held at some point during October. The same source who spoke to AppleInsider has shared reliable information on product introduction and timing in the past.
If true, the schedule would align with Apple's pattern for the last several years, which last year saw the company unveil its new iPad Air and iPad mini with Retina display in October with an availability date in early November. This year's event may introduce updated iPad models that include a faster A8 processor, anti-reflective display and a Touch ID fingerprint sensor, although one report suggests most of the upgrades will be limited to the larger iPad Air model.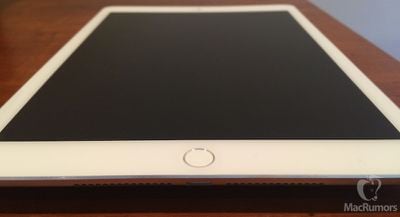 iPad Air 2 mockup
Aside from new iPads, Apple is also expected to use the October event to finalize the details and availability date for OS X Yosemite, which was initially introduced at the company's Worldwide Developers Conference in June. According to
The Daily Dot
, Yosemite will be released immediately following the October event, similar to the release of OS X Mavericks just after the conclusion of last year's October event.
Other Apple devices in need of upgrades include the Mac mini, MacBook Air, iMac, and the Apple TV, but few details suggest updated these models will be updated before the end of 2014, particularly given Intel's delays with its next-generation Broadwell processors. One recent rumor has, however, claimed Apple may release a new ultra-high definition 27-inch monitor with 5120 x 2880 resolution in 2014, but details on this desktop accessory remain sparse.
Update 12:35 PM: Bloomberg is also reporting that Apple plans to introduce new iPads in mid-October.
Apple Inc. will unveil the next generation of iPad tablets around mid-October, a person with knowledge of the plans said, as the company bolsters its product lineup ahead of the holiday shopping season.
The report reiterates earlier claims that new iPad and iPad mini are already in production or soon to be so, while a larger 12.9-inch iPad is scheduled to begin mass production early next year.
Update 12:41 PM: The Loop's Jim Dalrymple says Apple is not planning an October 21 event. He does not, however, address the possibility of new iPads in that general timeframe.