Apple Announces 4.7-Inch iPhone 6 and 5.5-Inch iPhone 6 Plus, Launching September 19
At its special media event today, Apple announced the 4.7-inch iPhone 6 and the 5.5-inch iPhone 6 Plus. Apple is touting a "Retina HD Display" on both phones, as the 4.7-inch iPhone 6 features a 1334 x 750 display at 326 pixels-per-inch while the iPhone 6 Plus features a 1920 x 1080 display at 401 ppi. The iPhone 6 is said to have more than 1 million pixels, while the iPhone 6 Plus is said to have 2 million pixels.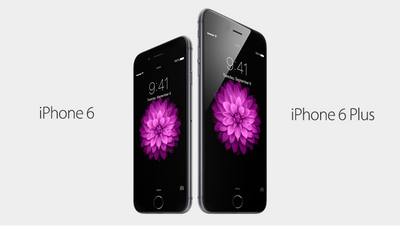 "iPhone 6 and iPhone 6 Plus are the biggest advancements in iPhone history," said Tim Cook, Apple's CEO. "The iPhone is the most loved smartphone in the world with the highest customer satisfaction in the industry and we are making it much better in every way. Only Apple can combine the best hardware, software and services at this unprecedented level and we think customers are going to love it."
The new models feature a number of hardware changes, including a chassis that is 6.9 mm thin for the iPhone 6 and 7.1 mm for the iPhone 6 Plus. Both models feature the next-generation 64-bit A8 chip, which features 2 billion transistors on a 20nm processor. The A8 delivers 25% faster CPU performance and is 13% smaller and 50% more energy efficient when compared to the A7. The device also comes with a next-generation M8 motion coprocessor which can now estimate distance and elevation changes with a new barometer.
Apple states that the iPhone 6 will get 50 hours of battery life for audio, 11 hours for video, 11 hours for WiFi browsing and 10 hours for LTE browsing. With its even bigger body, the iPhone 6 Plus will get 80 hours of battery life for audio, 14 hours for video, and 12 hours for Wi-Fi and LTE browsing. The iPhone 6 now also includes Voice Over LTE (VoLTE) technology, including 20 LTE band, as well as 802.11ac Wi-Fi, which delivers 3x faster Wi-Fi and support for Wi-Fi calling.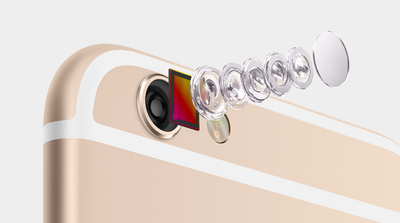 The iPhone 6 and iPhone 6 Plus also support a new camera system with a brand-new 8-megapixel sensor, along with a circular true tone flash. Apple is also touting "Focus Pixel" technology, which allows the lens to move in and out to better determine autofocus points. The camera also features next-gen tone mapping and noise reduction. Apple also says the camera is complimented by a new gyroscope and image stabilization built into the A8 processor. Exclusive to the iPhone 6 Plus is an optical image stabilization system.
As for video capabilities, both devices shoot in 1080p at 30fps and 60fps, along with 240fps slo-mo video, which is up from 120fps on the iPhone 5s. The front-facing FaceTime HD camera has also received a new sensor with a f2.2 aperture that lets in 81% more light. Users can also shoot single-shot HDR photos and take HDR video.


Both devices will launch on September 19 in the first wave of countries, with pre-orders starting on September 12. The iPhone 6 will be available in 16 GB, 64 GB, and 128 GB variants for $199, $299, and $399. The iPhone 6 Plus will be available in the same storage capacities for $299, $399, and $499, respectively. Both iPhone 6 models also come in the same Space Gray, Gold, and Silver variants. The iPhone 5c is now free on contract while the iPhone 5s will now be offered for $99.