Apple may be forced to wait until 2015 to launch the iPhone 6 and iPhone 6 Plus in China, according to a report in 21st Century Business Herald [Google Translate]. If true, the delay could have consequences for the company both in terms of customer momentum in the critical Chinese market and overall earnings projections.


Sources with knowledge of the situation told 21st Century Business Herald that Apple's latest iPhone models have failed to receive the necessary approval from the Ministry of Industry and Information Technology (MIIT). This certification is required for Apple to begin selling the iPhone in the Asian country. A re-application date for approval has not been determined, leaving Apple's Chinese iPhone 6 debut uncertain.
Apple unveiled the iPhone last week, announcing launch dates of September 19 for its first wave of markets and September 26 for a second wave of countries. Noticeably absent from either list was China, which is a region of significant growth for Apple. For the past year, Apple consistently has reported increased revenue growth from China, with plans to double its retail footprint and build out its channels in the coming years. Apple last year touted its progress in China, with the company having worked hard to ensure the iPhone 5s and 5c launched in the first group of countries.
Initially, this year's China delay may impact Apple's important holiday quarter and affect its stock price over the coming months as the iPhone 6 and 6 Plus expand to other countries except China. Demand for the iPhone 6 in China is high, with carriers having prematurely accepted pre-orders of the phone ahead of Apple's announcement.
Due to such demand, Apple will have to battle the gray market in which resellers purchase iPhone 6 units in other countries, import them into mainland China and then sell the phones to wealthy Chinese consumers at exorbitant prices. iPhone 6 models already have started to appear in China ahead of this week's global launch.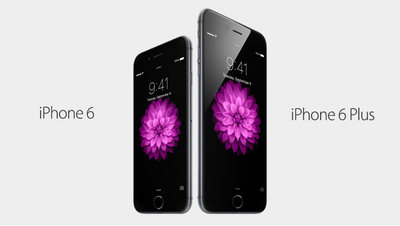 Over the long term, the delay may have a beneficial effect on subsequent quarters, which usually show a decline in iPhone sales and company revenue. If Apple were to launch the iPhone 6 and 6 Plus in January 2015, the company may forestall this slump due to a spike in sales from Chinese consumers.
This delay also may help Apple balance supply and demand of the iPhone, which is selling out quickly in the regions that are currently accepting pre-orders. A 2015 launch would help Apple meet the current demand and ensure it has ample supply for a major Chinese launch at the beginning of next year.
Apple's iPhone 6 and 6 Plus go on sale this week starting Friday, September 19 in the US, Australia, Canada, France, Germany, Hong Kong, Japan, Puerto Rico, Singapore and the UK. A second round of sales will begin September 26 in 20 additional markets, including Austria, Belgium, Denmark, Finland, Ireland, and more. Contract pricing starts at $199 for the 16 GB iPhone 6 and $299 for the larger 16 GB iPhone 6 Plus.