Apple Watch Will Allow Left-Handed Users to Choose Interface Orientation
At its special media event today, Apple unveiled its Apple Watch, showing off a variety of ways to use the device and its apps. However, Apple's presentation and videos did not directly address how the device would work for left-handed users.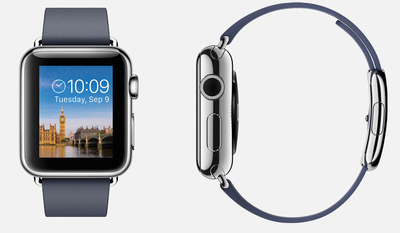 Now, Slashgear has new information on how the device will work for left-handed individuals. According to Apple, users will be able to choose what way the watch's interface orients upon starting up the device for the first time. The bands for the Apple Watch are also swappable, enabling users to ensure the the device is not facing the opposite direction. However, left-handed users will still be required to adapt to the Digital Crown input on the Apple Watch, which is on the bottom left side when the device is worn on the correct wrist.
The Apple Watch will launch in early 2015 at a starting price of $349, and will be available two separate screen sizes of 38mm and 42mm. Apple will also ship 18 different watch straps that are easily interchangeable alongside its different color and material choices.