iPhone 6 Front Panel, Power Button, and Mute Switch Shown in High-Quality Photos
Following previous photo sets showing an unfinished 4.7-inch iPhone 6 rear shell and assorted other parts in recent weeks, luxury modified iPhone vendor Feld & Volk [Instagram page] has shared another set of high-quality photos showing parts from the device. While many of the parts have already been seen, this new set provides our best look yet at some of those, as well as a few new ones.
One photo shows the inside of the front panel and display assembly, with some of the components near the top pulled apart to give a good look at how the digitizer/LCD flex cables and earpiece come together with room for the front camera and proximity/ambient light sensors all packed into one small area of the device.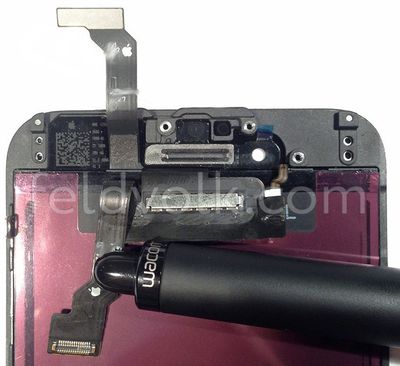 Several other photos also highlight how the edges of the front panel taper. Those tapered edges should sit essentially flush with the edges of the rounded rear shell, providing for a sleek, nearly seamless look and feel for the iPhone 6.





Also shown are extreme closeups of the power button and mute switch. The silver metal finish of the power button can be easily seen, and Feld & Volk says the volume buttons will be of very similar design and finish. The design of the mute switch is very different from that seen in other recent iPhones, as the new switch appears to pivot slightly on a pair of internal pins while switches on other recent iPhone models have been of a flat slider type. The design change may be due to the iPhone 6 having rounded sides as opposed to the flat sides seen since the iPhone 4.

iPhone 6 power button

iPhone 6 mute switch
Finally, the set includes a high-quality photo of the SIM card tray, again showing the silver metal finish of the part.


Apple is expected to introduce the iPhone 6 at a media event on September 9. The device is expected to come in 4.7-inch and 5.5-inch display sizes, although it is unclear whether they will launch simultaneously or not. The first wave of launches is likely to come a week or two after the event.