iPhone 6 to Support 'One-Handed Mode' to Address Usability on Larger Screens
In a lengthy article covering Apple's iWatch and iPhone 6 plans for next Tuesday's media event, The New York Times reports the iPhone 6 will support an optional "one-handed mode" to make it easier for users on the larger-screened devices.
To deal with concerns that a bigger phone will make typing with one hand difficult (the current iPhone has a 4-inch screen), some changes to the design of the iPhones' software interface will allow people to type or use apps with just one hand — there will be a one-handed mode that can be switched on and off, two employees said.
The report reiterates rumors that the iPhone 6 will come in 4.7-inch and 5.5-inch sizes, considerably larger than the 4-inch screen included on recent iPhone models. Apple has touted the ease of one-handed use on its current lineup as competitors have moved to even larger displays, and this new one-handed mode will clearly serve as an answer to Apple's own previous criticism of large-screen phones. Exactly how this mode will work is unclear, however.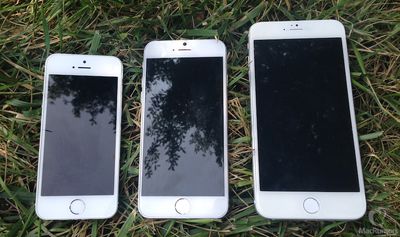 iPhone 5s next to physical mockups of 4.7-inch and 5.5-inch iPhone 6
The New York Times
also reiterates circulating rumors that the 5.5-inch iPhone 6 will be priced higher than the 4.7-inch model, with both devices also including near field communications (NFC) to support a new mobile payments initiative.
Apple's media event kicks off at 10:00 AM Pacific Time next Tuesday, and Apple will be providing a live video stream of the event. MacRumors will also be providing coverage of the event with a liveblog and Twitter updates.