iPhone 6 Information Leak Sourced from Foxconn Details Dimensions of 4.7-Inch and 5.5-Inch Versions
French Apple website IGen.fr (Google Translate) has shared a variety of new details about Apple's upcoming iPhone 6, including dimensions for each model, info about the protruding camera ring on the rear of both devices, and more. The photos appear to be of internal information residing in a Foxconn factory, as the 5.5-inch iPhone 6 and 4.7-inch iPhone 6 carry code names of N56 and N61, respectively.
The information states that the final version of the 5.5-inch iPhone 6 will measure 158 mm long, 78 mm wide, and 7.1 mm thick (7.7 with the protruding camera), weighing 184.6 grams, or 6.5 ounces. Also spotted is information for a first prototype, which retained the same length and width but was 7.0 mm thick and weighed 168.5 grams, or 5.9 ounces.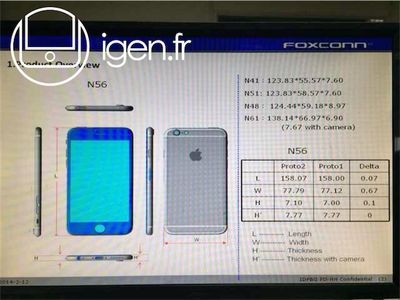 Supposed measurements of the 5.5-inch iPhone 6


Meanwhile, the 4.7-inch iPhone 6 is said to measure at 138 mm long, 66 mm wide, and 6.9 mm thick, as the weight of the device is not listed. For comparison, the iPhone 5s measures 123x58 mm and is 7.6 mm thick.

A comparison of both the 5.5-inch and 4.7-inch model, as well as the iPhone 5s


A source close to the production of the 5.5-inch version claims that it will feature a battery with a large capacity, possibly 2915 mAh. That number comes from a in line with a component leak spotted earlier this month. The source did not specify whether the larger device was equipped with a sapphire display, however Apple reportedly shipped 28 containers of displays to Foxconn from the United States. It is possible that those containers could have come from GT Advanced Technologies, which Apple partnered with to produce sapphire displays at a factory in Arizona. However, no additional evidence suggests that is the case.

A schematic showing the protruding camera on each iPhone 6 and the iPhone 5s


Specifics around the protruding camera ring on both devices are also seen in the photos, as the 5.5-inch iPhone 6 will have an external camera ring that protrudes at 0.67-0.77 millimeters while the ring on the 4.7-inch iPhone 6 will protrude at 0.77 mm. Both protruding camera rings appear to be similar to the one on the fifth-generation iPod touch, although it is unknown at this time what specific purpose they serve. The schematic of the protruding camera ring on the 5.5-inch iPhone 6 was spotted a few days ago, however that was originally interpreted to be for the 4.7-inch iPhone 6.

Finally, the source notes that the iPhone 6 features a well cut-out logo on its rear, which is said to be made from a very durable material and lines up with previous leaks. The device's rear bands sighted in previous leaks are also said to be featured on the iPhone 6, and will act as refined antennas. Apple was also said to be working to feature a 2.5mm headphone jack on the iPhone 6, however the company scrapped it to avoid complaints about compatibility issues with existing audio accessories.

Certification tests for both models were said to take place last week, with mass production reportedly beginning this week. Apple is said to have ordered 40 million 4.7-inch units of the iPhone 6 for the rest of 2014, and is aiming for a 100 million devices by the end of this year. It was also stated that the launch 5.5-inch version may be delayed until a later time, although both are scheduled to be introduced at the same time.

Apple will reveal the iPhone 6 at a media event on Tuesday, September 9. In addition to a refined design as mentioned above, both models of the device will feature a faster A8 processor, an improved camera, and more.