BlackBerry Takes Advantage of iMessage Spam Reports to Tout BBM
BlackBerry is taking advantage of reports of iMessage's vulnerability to spam messages to tout its BlackBerry Messenger app. In a blog post, the company highlights a report from earlier this week that said iMessage users see quite a bit of spam, with accounts run by spammers responsible for more than 30 percent of all spam messages on mobile devices.
BlackBerry suggests that iMessage users switch to BBM to avoid spam and lists five reasons why BBM is superior to iMessage. According to the company, BBM is safer primarily because it does not utilize a phone number or email address and it only accepts messages from contacts.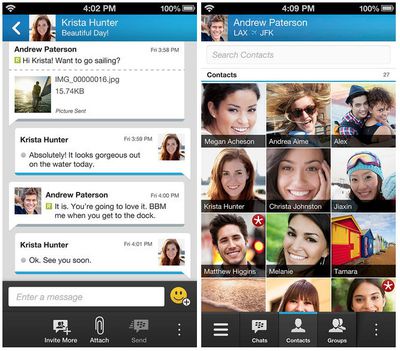 1) BBM is architected in a way that protects our 85 million users against spammers. iMessage works off of phone number or Apple ID. Anyone who has your number or Apple ID can send you messages whether you want them to or not. With BBM, users have a lot more control due to our "invite and accept" paradigm. In other words, both parties need to be mutually committed to being contacts in order to send and receive messages.

2) BBM gives you control. There's no spam on BBM due to its self-policing system. Users are in control of their contact list and there is no way to send a message without being contacts. You can't control someone showing up to your house, but you don't have to open the door. With BBM someone can request to be added to your list, but you don't have to accept their invite.
BlackBerry also uses its list to highlight BBM's encryption that protects messages from "spying or hacking," its ability to block contacts, and its cross-platform availability.
Despite all of BBM's apparent perks, BlackBerry has had trouble convincing users to adopt the app due to competition from iMessage and other messaging apps like WhatsApp, Kik, WeChat, and more. In late 2013, BlackBerry users on Android, iPhone, and BlackBerry phones sent and received approximately 10 billion messages per day, while WhatsApp processed upwards 50 billion messages per day.
Listed as number 56 in the social networking section of the App Store, BBM is ranked far below competing messaging apps. BlackBerry itself has also been struggling in recent months as iOS and Android make gains in the enterprise market.
The initial report on iMessage spam pointed towards Apple's deep integration of mobile and desktop as the reason for iMessage's popularity with scammers. While the uptick in iMessage spam has been recent, Apple does have some measures in place to combat spammers. There's rate-limiting on the iMessage network to stop users from sending hundreds of messages and there is a spam reporting protocol in place, but Apple will likely need adopt more aggressive measures in the future to limit spam messages due to the platform's growing popularity with spammers.