Apple in Talks With Insurance Companies Over HealthKit Partnership
In addition to seeking partnerships with several different hospitals and health institutions for its HealthKit initiative, Apple is also speaking with major U.S. insurance companies like UnitedHealth and Humana.
In a report on rising medical costs and partnerships between insurance providers, corporate employers, and fitness device makers, Bloomberg suggests that Apple has spoken with insurance companies about HealthKit, but no specifics on the conversation were provided.
The focus of the piece, highlighting the insurance perks that companies can offer to employees with healthy habits, implies that Apple may be exploring partnerships that would possibly allow its collected data to be shared with insurance companies and other medical providers.
Under the Affordable Care Act, the new national health-care law, companies can spend as much as 30 percent of annual insurance premiums on rewards for healthy behavior.

Technology companies are taking note. Apple Inc., which has new health-tracking software called HealthKit that will be released this year and is said to be developing its own wearable device, has talked with UnitedHealth, the biggest U.S. insurer, and Humana, about its health initiatives, executives at the insurance providers said. The companies wouldn't provide specifics about the conversations. Apple declined to comment.
An example of a partnership between a fitness company, an insurance provider, and a corporation is the agreement between Fitbit and oil company BP. As explained by Bloomberg, BP gave employees the option to wear a Fitbit fitness tracking device to earn points resulting in cheaper health insurance.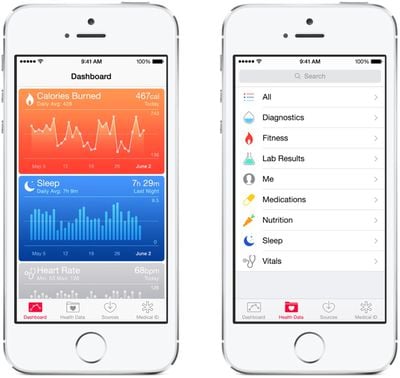 Apple's Health app


It is unclear if Apple is in talks about similar programs, but the company has been exploring many different options for its HealthKit initiative. First introduced during WWDC, HealthKit is a set of APIs designed to be incorporated into apps and hardware devices, collecting and aggregating a wealth of health and fitness data into one convenient location.
HealthKit pairs with the newly introduced Health app, which provides an interface for users to view all of this health data. Apple has already announced several partners it is working with on HealthKit, including Nike, the Mayo Clinic, and Epic Systems, a company that deals with electronic health records.
A recent report from Reuters has also suggested Apple is in talks with multiple health providers at Mount Sinai, Cleveland Clinic, Johns Hopkins, and Allscripts, with the company pushing HealthKit and its Health app as an all-in-one patient data resource for medical professionals.
The Health app, built into iOS 8, will be available to the general public as of next month, and the first fitness and health apps and devices will likely introduce support for HealthKit shortly after iOS 8 debuts. The Health app is also said to be heavily tied to Apple's own upcoming wearable, which may measure several different health-related metrics including fitness levels and sleep quality.