Apple In Talks to Roll Out HealthKit to Medical Professionals Across U.S.
Apple is preparing to roll out its Healthkit development tools to health professionals across the U.S., and has been discussions with health providers at Mount Sinai, Cleveland Clinic, John Hopkins, and Allscripts to use the new system, reports Reuters.
Apple is said to be pushing Healthkit and its Health app as being an all-in-one solution for medical professionals to store patient data like blood pressure, pulse, and weight. Apple is also hoping that physicians will use the available data to improve diagnostics and treatment decisions. The company is also looking to partner with electronic health records provider Epic Systems to integrate its software and services.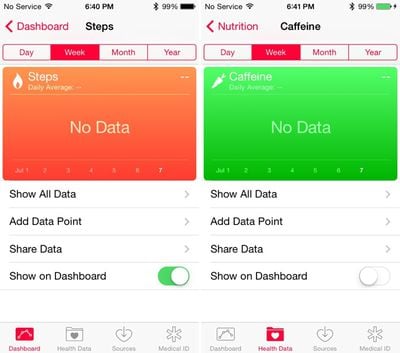 The article notes that Apple is likely to face challenges in the mobile health data field due to privacy and regulatory requirements. Apple's Health app and Healthkit development tools were originally introduced at this year's WWDC conference this past July. The Health app allows users to keep track and input several different health metrics measured by various devices, and can also allow an at-a-glance view of overall health with the aggregated data. The HealthKit tool for developers can be incorporated into health and fitness apps to access health data stored within the health app.
Both Health and HealthKit will be shipping as a part of Apple's new iOS 8 mobile operating system this fall.