Apple In-Ear Headphones Finally Shipping
After a
long delay
, Apple has started to list ship dates of "7-10 days" on their revised In-Ear headphone which were
announced
in September.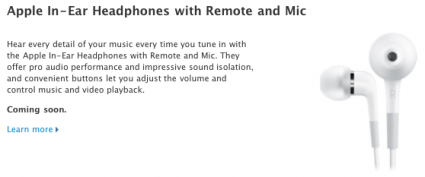 Apple describes the
new In-Ear headphones
as being "engineered for superior acoustic accuracy, balance, and clarity" and were originally promised in October. They
retail
for $79.00.
The new headphones are
also mostly compatible
with the iPhone and iPhone 3G although the volume controls will not work. Apple has
also released a technote
on getting optimal audio quality from your In-Ear headphones.