More Photos Point Toward 1,810 mAh Battery for 4.7-Inch iPhone 6
Last month, a photo surfaced showing what looked very much in line with Apple's usual iPhone battery design but with a capacity of 1,810 mAh, higher than the 1,560 mAh battery found in the iPhone 5s. Speculation naturally pointed toward the new battery being for the 4.7-inch iPhone 6, with a number of observers being disappointed in the modest capacity increase considering the larger display slated for the device.
Just last week, an analyst report claimed the 4.7-inch iPhone 6 will actually include a 2,100 mAh battery, giving hope to those looking for a more substantial increase but lacking any evidence to support the claim.
New photos shared by Nowhereelse.fr [Google Translate] now provide additional support for the original 1,810 mAh claim. The photos offer a good look at the batteries, which appear to contain the full set of regulatory and specification text as well as an Apple logo, with one photo showing the batteries in trays for shipment.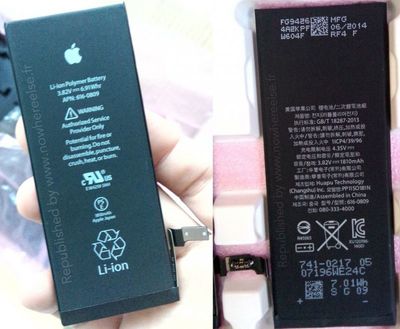 (Click for larger)
The one battery shown in closeup does include a manufacturing date of June, making it several months old, while the original leaked battery had a more recent manufacturing date of July. Still, the growing evidence for the 1,810 mAh battery suggests the analyst claim of a 2,100 mAh battery may indeed be incorrect.
These new photos of the rumored 4.7-inch iPhone 6 battery come just after other photos surfaced from a different source allegedly showing the battery for the 5.5-inch iPhone 6. That battery checks in with a capacity of 2,915 mAh, potentially offering a significant increase in battery life depending on how much more power the device draws than its smaller sibling.