'Siri for Mac' Virtual Assistant Described in New Apple Patent Application
Rumors suggesting Siri will make its way into OS X have been circulating for years, but the personal assistant has yet to debut on the Mac. A new patent application published by the U.S. patent and Trademark Office and spotted by AppleInsider revives these rumors with the description of an intelligent assistant for the desktop that provides features far beyond the current dictation available in OS X.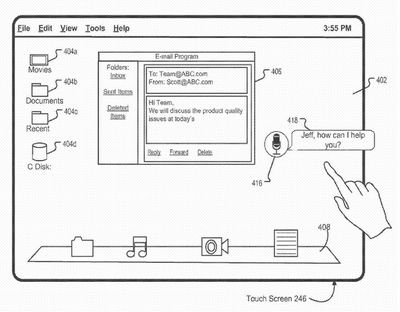 The patent application, which was filed in February of this year and based on a provisional application from a year earlier, describes a system that in one iteration can sit in the dock, waiting for touch input or voice commands to activate a personal assistant in a manner similar to Siri in iOS. The assistant would then perform tasks based on input by the user. The same system can function as a third hand, allowing users to interact physically with a mouse and keyboard while simultaneously performing a secondary task using their voice.
Methods and systems related to interfaces for interacting with a digital assistant in a desktop environment are disclosed. In some embodiments, a digital assistant is invoked on a user device by a gesture following a predetermined motion pattern on a touch-sensitive surface of the user device. In some embodiments, a user device selectively invokes a dictation mode or a command mode to process a speech input depending on whether an input focus of the user device is within a text input area displayed on the user device. In some embodiments, a digital assistant performs various operations in response to one or more objects being dragged and dropped onto an iconic representation of the digital assistant displayed on a graphical user interface. In some embodiments, a digital assistant is invoked to cooperate with the user to complete a task that the user has already started on a user device.


Though Apple is bringing some aspects of iOS to OS X such as Reminders, Apple has yet to integrate Siri into its desktop platform. The feature was not mentioned when Apple unveiled OS X Yosemite, and there is no known evidence in the current beta version of Yosemite that suggests Apple may integrate its personal assistant into future versions of the desktop OS. Still, it is clear Apple is thinking about ways to bring Siri-like features to OS X.