Unreleased 'Mid 2014' Mac Mini Referenced on Apple Support Page
An Apple support page on Boot Camp was updated yesterday to include a mention of a mid-2014 Mac mini, perhaps hinting that a refresh of the desktop computer might be in the works.
First noticed by 9to5Mac, a cached version of the support page suggests yesterday's update also added mentions of the 2014 low-cost iMac and 2014 MacBook Airs. Today's newly released mid-2014 Retina MacBook Pros were not added to the updated page.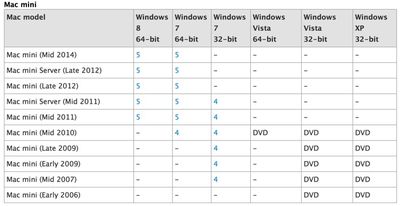 The mention of the mid-2014 Mac mini may be a simple error, but the machine is long overdue for a refresh. Last updated in October of 2012, the Mac mini is the only product in Apple's mainstream Mac lineup that has not seen an update with Haswell processors.
Aside from the mention on Apple's support page, there has been no indication that a Mac mini refresh is on the horizon. Several events, including the unveiling of the new iPads last October and Apple's Worldwide Developers Conference seemed like opportune times for the company to unveil a refreshed version of the desktop computer, but no new Mac mini materialized at either event. It continues to remain unclear when Apple might release a new Mac mini, but the support page does offer hope that the product line might continue to live on.
An updated Mac mini would likely offer some improvements brought to the rest of Apple's Mac lineup over the course of the last two years, including Haswell processors, faster PCI Express-based flash storage options, and 802.11ac WiFi.