Apple TV Updated with CNBC and FOX NOW Channels
Apple today added two more channels to the Apple TV, delivering financial news channel CNBC and network FOX NOW to the platform.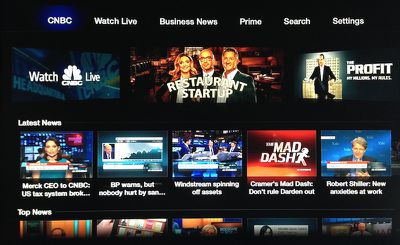 CNBC offers access to a live stream of the financial channel, as well as on-demand clips from news segments and full episodes of the channels "Prime" content original series. Viewing requires authentication with one of a number of cable and Internet providers. Notable cable companies not available for authentication include Time Warner and Charter.


FOX NOW includes on-demand access to a number of shows from the network, including 24: Live Another Day, Cosmos: A Spacetime Odyssey, Glee, and more. Authentication through a cable provider is required for full access to content.
Update 7:40 AM: Apple has also added TV2 Sumo [Google Translate], the online version of popular channel TV2, in Norway.
Update 8:48 AM: As noted by The Loop, Brazilian sports subscription channel Esporte Interativo has also been added in that country.