Apple Close to Acquiring Radio Streaming Service Swell for $30 Million
Apple is close to acquiring talk radio curation service Swell for about $30 million, reports Re/code. Swell's iOS app launched last year and allows users to listen to streaming audio from iTunes, NPR, ABC, ESPN and others through a design that emphasizes simplicity.
As a part of the acquisition, Swell will shut down its iOS app this week as its CEO Ram Ramkumar and other members of its development team will join Apple. Apple will likely look to use Swell's technology to improve its own Podcasts app, which holds a 1.5 star rating and has been widely criticized for performance issues. Users of Podcasts also experienced an outage last month, as the app constantly crashed upon opening.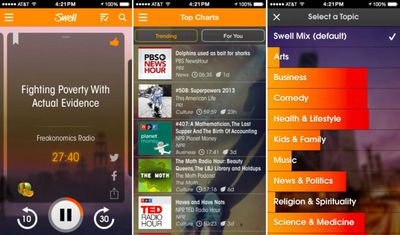 Swell's iOS app


Apple's purchase of Swell follows the acquisition of "Pandora for Books" startup BookLamp in April for a reported sum between $10 million and $15 million, as the company also acquired Beats Electronics this past May for $3 billion. It was revealed in the company's Q3 2014 results earnings call that it had acquired 29 companies since beginning of 2013, with 5 coming from beginning of March quarter, not including Beats.

Update 7/29 12 PM PT: Apple has confirmed its acquisition of Swell in a statement to The Wall Street Journal.