Construction at Apple's "Spaceship" Campus has been progressing at a rapid pace in the past few months, as the company most recently began putting up the outer walls and laying roadwork. Now, iFun.de (Google Translate) shares new photos of the steel and glass material that will be used for the campus' facade, which are being provided by German company Josef Gartner GmbH.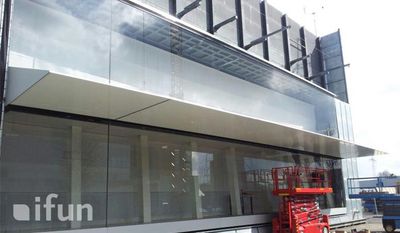 Construction material for Apple's Spaceship Campus tested by Josef Gartner


The images show the steel and glass components being tested by Josef Gartner outside of its premises, and could hint at the scale of Apple's new Campus 2 building upon completion. The building will have a circular, multi-story structure surrounded by greenery, additional buildings, performance stages, a fountain, and more.

A concept image of what the front of Apple's Spaceship Campus will look like


Apple's Campus 2 project will be constructed in two phases, with the first phase finishing up by 2016 and including a 2.8 million square-foot ring-shaped central building, an underground parking facility, a 100,000 square foot fitness center, and a 120,000 square foot auditorium. Meanwhile, the second phase of construction will take place after 2016 and include an additional 600,000 square feet of office, research and development buildings as well as an additional parking structure with 1,740 spaces.