iPhone 6 Cases and Images Circulating on Amazon Based on Rumor, Don't Offer Insider Information
Prior to the launch of a new iOS device, accessory manufacturers often create cases months in advance in an attempt to gain publicity and score pre-orders from users eager to protect their new devices. These cases are often created based on leaked schematics and the manufacturers themselves rarely have any information on the devices they're creating cases for beyond what's seen on rumor sites.
While third-party cases for the iPhone 6 have been available for purchase for months, several different cases from popular accessory manufacturer Spigen have been generating a growing amount of interest on Amazon.com.
Spigen has listed multiple cases, both for the 4.7-inch iPhone and the larger 5.5-inch iPhone 6, which it has taken to calling the "iPhone Air." MacRumors has been contacted several times in regard to these cases, which many readers believe offer legitimate details on the iPhone 6 because they're coming from a "reputable" source.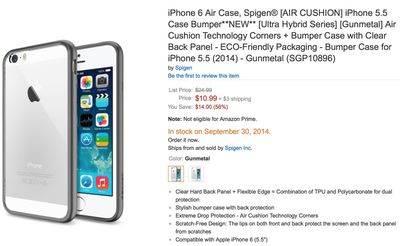 Spigen uses photoshopped iPhone 5s images with curved edges to fit into its iPhone 6 cases, which are undoubtedly based on leaked schematics that have been circulating around the Internet for months. The images do not offer any insight into the next-generation iPhone's appearance and Spigen's "iPhone Air" moniker for the 5.5-inch iPhone is a mere guess, based on a term bandied about by Chinese media reports. Spigen's September 30 release date also delivers no inside information about the iPhone 6, as it is a safe date in line with rumors pointing towards an early September introduction.
Along with the cases posted on Amazon by Spigen, Amazon Japan also made headlines last week when an iPhone 6 listing appeared with specific details on the iPhone 6, including a 4.7-inch display, dimensions of 13 x 6.5 x 0.7cm, and a weight of 113 grams.


Many sites reported on the listing as a leak directly from Amazon.com, but in fact, it was listed by a third-party seller who used images taken from MacRumors and coupled them with details derived solely from rumors. The listing was later removed by Amazon.
As we draw closer to the launch of the iPhone 6, similar "leaks" will undoubtedly pop up from seemingly reliable sources taking advantage of the iPhone 6 frenzy, but it is important to note that accessory makers and third-party vendors are unlikely to have insider information sourced directly from Apple.