Foxconn Set to Deploy Robots to Help Assemble the iPhone
At a recent shareholder meeting, Foxconn CEO Terry Gou announced that the company will soon deploy robots to help assemble devices, noting that Apple will be the first company to use the service, reports IT Home (Google Translate, via GSMDome).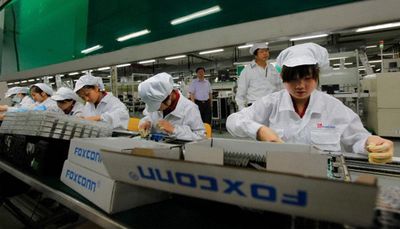 Named "Foxbots", each robot will be able to assemble an average of 30,000 devices and costs anywhere from $20,000 to $25,000 to make. Gou stated that the assembly devices are undergoing their final testing phase, as Foxconn plans to deploy 10,000 robots to its factories.
Foxconn has been Apple's longtime primary partner in assembling its iPhones, iPads, and iPods. In 2011, it was reported that Foxconn would be replacing a portion of its workers with 1 million robots, although it was not clear at the time how many jobs would be replaced by the robots.
As a part of its 2013 10-K annual report last year, Apple also revealed that it was investing a record $10.5 billion on advanced supply chain technology, with some of that investment going towards advanced machinery including assembly robots. A report earlier this year noted that Apple would be moving production of iPhone batteries to automated lines, allowing suppliers to reduce manpower demand and shift resources towards production efforts on other parts.
Foxconn has recently ramped up its production efforts ahead of the launch of Apple's iPhone 6 this fall, with the company bringing on 100,000 new workers to help assemble the iPhone 6. Production of the new device is reportedly set to ramp up next month ahead of a launch around September. The iPhone 6 is expected to come in two sizes of 4.7-inches and 5.5-inches, and feature a thinner profile, an improved camera, a faster A8 processor, and more.