New Backlight Enables iPhone 6's Thin Design, May Cause Production Challenges
Leaked images, mockups and schematics suggest the iPhone 6 will be Apple's thinnest iPhone model to date, with a side profile approaching that of the 6.1 mm iPod touch. A new report from Chinese media sources (Via GforGames) suggests Apple may face yield issues with the next generation iPhone due to its decision to minimize the size of the handset.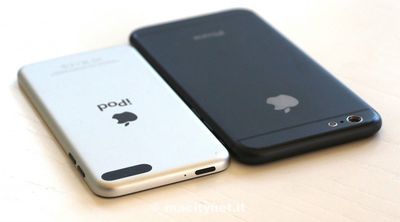 According to supply chain sources who spoke anonymously to China Times, Apple may use only one brightness enhancement film (BEF) in its LCD display as a space-saving measure. Current generation iPhone displays are supplied by Minebea and use two layers in order to improve readability in these backlit displays.
This change to a single layer technology may cause yield issues as the one layer has to be of a higher quality in order to take the place of two. To meet demand for this new part, Apple allegedly is looking to OMRON and Radiant as suppliers to supplement the projected output from Minebea.
Despite an earlier rumor that Apple was considering adopting "touch on display" technology for future iPhone models, this latest report claims Apple will continue to use the current in-cell display for its upcoming iPhone 6. Sources also claim the main suppliers for the iPhone will remain LG, JDI and Sharp, which was rumored to have been dropped from Apple's iPhone 6 supplier chain. According a report from Taiwan's Economic Daily News, Apple was said to be replacing Sharp with Innolux due to "Moire" issues with Sharp's early sample panels.
Though it won't comment on its role in future Apple products, Sharp did confirm it is betting big on Apple with an entire plant dedicated to producing displays for the Cupertino company, said Sharp Senior Executive Norikazu Hoshi in an interview with Japanese newspaper Nikkei (via CNET). Similar to other companies that supply Apple, Sharp faces some risk in this strategy with large swings in monthly production due to Apple's once-a-year product refresh cycle.
The No. 1 plant's output goes to just one company (Apple). If you look at just this plant, it certainly presents a high level of volatility risk. But if we make LCD panels for smartphones in large quantities at the No. 2 plant, we can absorb the impact even when the No. 1 plant is not doing so well.
Sharp, Minebea and other Apple suppliers are gearing up for the expected mass production of the iPhone 6 which is rumored to begin in July. The iPhone 6 is expected to launch in September and may be available in both a 4.7-inch and 5.5-inch version.