Best Buy is now offering the new entry-level iMac for $979.99, a $120 discount off its standard price of $1099. Combined with the recent educational discount that takes an additional $150 off the price of Apple iMacs and MacBooks, the new iMac model can be purchased by qualifying customers for just $829.99.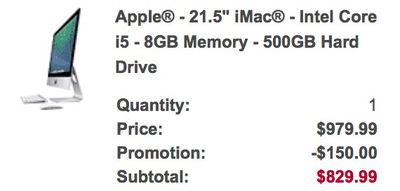 While the $980 sale price is available to all customers until June 28, the extra $150 discount is part of Best Buy's current College Student Deals that run until July 12. You need a valid .edu email address and must sign up at Best Buy's website to be eligible for the extra student discount on all iMac and MacBook models.
The new entry-level 21.5-inch iMac includes a 1.4GHz dual-core Intel i5 processor, a 500GB hard drive, 8GB of memory, and an Intel HD 5000 Graphics chip. The new iMac ships with the same ultra-low voltage Intel processor used in the current MacBook Air and scores similarly on benchmarks.
MacRumors is an affiliate partner of Best Buy.