New Low-Cost iMac Nearly 50% Slower in Multi-Core, 10% Slower in Single-Core Benchmarks
Following today's launch of a new entry-level iMac model featuring an ultra-low voltage Intel processor actually used in the MacBook Air, the new iMac appears to have shown up in Geekbench's benchmarking database. The use of an ultra-low voltage chip in the iMac is a somewhat curious move for Apple, as the company has traditionally used much more powerful desktop processors in the line.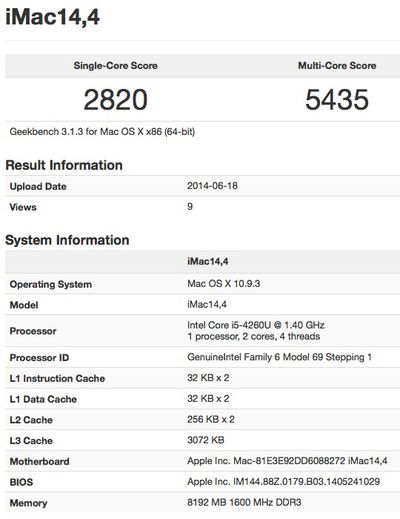 As expected, the new machine posts relatively low 64-bit scores of 2820 in single-core mode and 5435 in multi-core mode. These scores are marginally better than the 2690/5254 scores posted by the current-generation MacBook Air running the same chip and roughly 10% slower than the 3168 single-core score from the previous low-end iMac model, which remains available.
But where this new low-end iMac falls far short of the previous low-end model is in multi-core performance, where the older model clocks in at 10253. This major difference is due primarily to the chip used in the new low-end model being a dual-core chip, while the older low-end chip is quad-core.
The new low-end iMac comes in $200 cheaper than the previous entry-level model, but for that savings users will sacrifice some CPU and graphics performance and will have a 500 GB hard drive rather than the 1 TB drive included in the more expensive low-end model.
Update 12:25 PM: Primate Labs' John Poole has shared a blog post putting the new low-end iMac's performance in perspective compared to other iMac models and highlighting a Tweet from Ars Technica's Andrew Cunningham noting that Apple's decision to use a chip from its MacBook Air line may have been made for graphics reasons.
I'd say Apple used an Ultrabook CPU in the new iMac to avoid shipping Intel's HD 4600 GPU in anything. No desktop CPUs include HD 5000. — Andrew Cunningham (@AndrewWrites) June 18, 2014
Update 2
: The initial benchmarks for the new low-end iMac were taken in 64-bit mode, while the data was compared to 32-bit results from other machines. This article has been updated to compare 64-bit scores across all machines.