Apple Hiring Siri Engineers for Additional Language Support
Ahead of iOS 8 and the release of several new products later this year that will likely take advantage of Siri, Apple may be planning to bolster the virtual assistant with a range of new and improved languages.
Apple has posted several different job listings for Siri Language Engineers that are "highly motivated and an "expert in foreign languages with strong software development skills." According to the listings, posted largely between June 10 and June 19, Apple is seeking engineers fluent in Japanese, Norwegian, Turkish, Danish, Australian English, Arabic, Brazilian Portuguese, Swedish, Dutch, Thai, Russian, British English, and Cantonese. Emphasized languages above are not currently supported by Siri.
Come and join the team that teaches Siri how to understand and speak new languages. We are an extremely diverse and passionate group dedicated to bringing the future of intelligent assistants to the world.
Each position's responsibilities include tasks like developing natural language processing code specific to each language, providing suggestions towards new product features tailored to home markets, and daily interactions with other teams at Apple. Along with fluency in the target language, applicants are expected to have a proven track record delivering product-quality code as well as iOS or OS X development skills and proficiency with Java, perl, and shell scripting.
Apple has previously made several language related hires for its Siri team, recruiting a number of Cloud Services Engineering Interns fluent in a range of languages back in 2012 to work on support for additional languages for the service.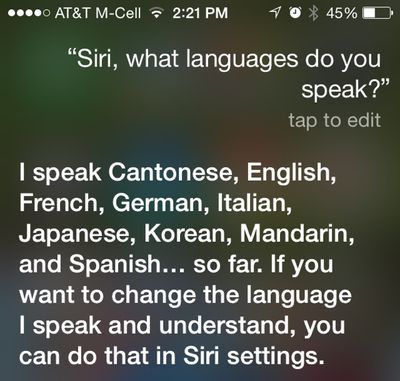 At the current time, Siri understands and speaks English (US, UK, Australia, Canada), Spanish (US, Spain, Mexico), Chinese (China-Mandarin, Hong Kong-Cantonese, Taiwan-Mandarin), French (France, Canada, Switzerland), German (Germany, Switzerland), Japanese (Japan), Italian (Italy, Switzerland), and Korean (Korea).
While the current version of iOS 8 available to developers does not add any additional language capabilities to Siri, it is possible that a Siri expansion is on the horizon for a later version of iOS 8, perhaps iOS 8.1, or iOS 9.
iOS 8, to be released to the public in the fall, does, however, feature a number of other Siri improvements including hands-free "Hey Siri" voice activation, Shazam integration, streaming voice recognition, and the ability to open the App Store.