Apple Cracking Down on Fake App Store Reviews
Apple recently began cracking down on fake reviews in the App Store, a widespread problem that can affect both App Store rankings and Top Charts. According to research done by TechCrunch, Apple appears to have started removing false reviews earlier this year.
One app, Better Fonts Free, which is described by TechCrunch as "spammy," saw thousands of its June ratings disappear overnight. While the app has just 4,000 reviews at the current point in time, it previously had more than 20,000. Developers have no way to remove reviews, which means the fake reviews were pulled by Apple.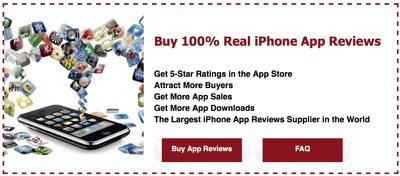 Instead, what happened is that Apple did step in to remove this app's ratings due to attempts by the developer to game the system. What's more, this is not the first time the company has done this, we now understand.

In fact, any time Apple finds credible evidence of ratings fraud or manipulation, it can and "often" does take action to remove the ratings associated with that activity.
There are several websites and marketing services that allow developers to purchase fake five-star reviews in an attempt to game the App Store charts, improving their rankings and their downloads. Apple has warned against these practices in the past, suggesting that developers who utilize services to manipulate their App Store rankings could be banned from Apple's developer program, so it is no surprise that the company has been quietly removing fake reviews.
It is unclear how Apple determines which reviews are false, but as anyone who has stumbled across a fake review in the App Store knows, they are often easy to spot. Most fake reviews use the same general wording, structure, and punctuation, in addition to being overly positive. The reviews below come from a low-quality highly-ranked app that has a perfect five star rating.


Apple has made several changes to the App Store in recent months with the aim of improving app discoverability. In late 2013, the App Store began compensating for small typos and misspellings and the company also implemented changes to the way apps are ranked for the Top Charts.
Just yesterday, Apple added a new 'Browse by Category' section ahead of major improvements being introduced to the App Store with iOS 8, including a new "Explore" tab and a search overhaul that includes trending and related searches.