Apple Warns Developers Not to Manipulate App Store Rankings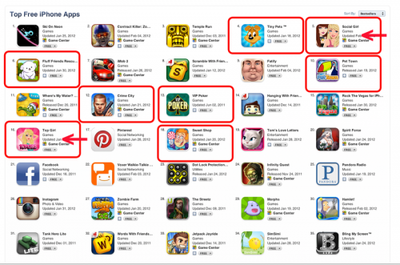 Yesterday, a TouchArcade thread was posted that warned about fraudulent App promotion services that guarantee Top 25 rankings for a modest fee. According to the poster, these services utilize automated scripts or bots to artificially boost free app rankings into the Top charts. At least one company denied the claims in the thread.
PocketGamer picked up on the story based on the forum thread:
For $5,000, said company will allegedly utilise bots that will download a developer's app over and over again until it has broken into the top 25 charts. At this point, the developer's app will have received sufficient customer exposure to attract downloads from real people.
In an apparent response, Apple has just posted a reminder (via iClarified) to developers, warning them not to manipulate App Store chart rankings.
Adhering to Guidelines on Third-Party Marketing Services
Feb 6, 2012

Once you build a great app, you want everyone to know about it. However, when you promote your app, you should avoid using services that advertise or guarantee top placement in App Store charts. Even if you are not personally engaged in manipulating App Store chart rankings or user reviews, employing services that do so on your behalf may result in the loss of your Apple Developer Program membership. Get helpful tips and resources on marketing your apps the right way from the App Store Resource Center.
The existence of these services is not new, but it seems the renewed publicity surrounding them has reached Apple's attention.