Amazon Launches 'Prime Music' Streaming Service with Access to Over One Million Songs
Amazon today officially launched its Prime Music streaming music service, offering Amazon Prime users unlimited, ad-free streaming on over a million songs. The service allows users to play specific curated playlists as well as the ability to add individual songs to a playlist, and offers unlimited offline playback for all songs available on the service.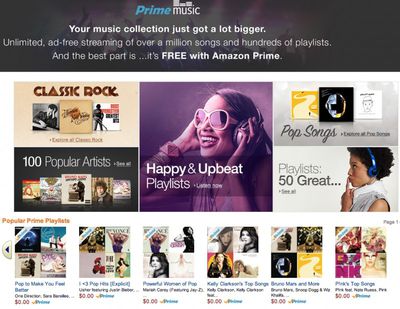 Amazon has also rebranded its Amazon Cloud Player iOS app as Amazon Music [Direct Link], offering a refined interface and allowing users to access songs on the service, with tools for managing a library and playlists. Like the web interface, Amazon also allows users to download music from Prime Music to a mobile device for offline listening.
As previously reported, Amazon's music catalog appears to only include songs older than six months, likely to save the company on royalty costs. By comparison, other streaming music services such as Spotify, Rdio, and Beats Music all offer new releases to their subscribers. Apple's iTunes Radio also offers new releases to listeners, however the service is centered more around users discovering new music through stations as opposed to searching for individual songs.
Amazon's Prime Music service also joins the company's Prime Instant Video offering, which allows access to a library of movie and TV shows. Currently, Amazon has 20 million paying Prime members that also receive free 2-day shipping on most items in addition to movie, music, and TV show access.
Amazon Prime Music is available now as a free service to current Amazon Prime members, with Amazon charging $99 per year for new Prime members. A free 30-day trial to the service is also available on Amazon's website. The company is also expected to announce a smartphone with 3D capabilities next week Wednesday, June 18.