Evidence of Upcoming Retina iMacs Showing Up in OS X Yosemite Beta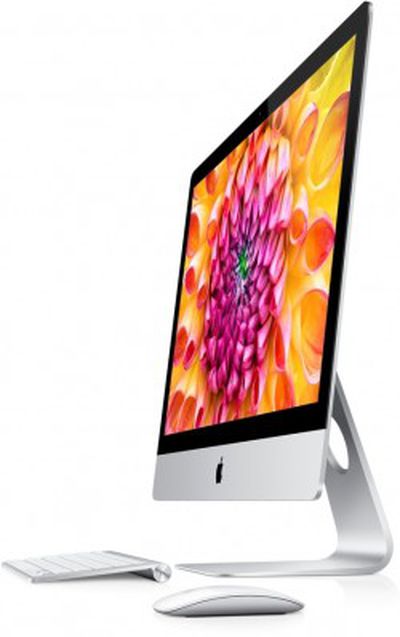 Evidence of upcoming iMac updates is continuing to accumulate, and the latest hint points toward support for models equipped with Retina displays. As noted by MacBidouille [Google Translate], the OS X Yosemite developer preview includes a new file defining display scaling resolution options for a machine identified as an iMac.
The unreleased machine was first spotted last week in the OS X 10.9.4 beta, but today's discovery includes the observation that Retina-resolution display support is included.
The file includes a series of scaling resolution options for this machine, maxing out at 6400 x 3600 pixels, or 3200 x 1800 as a Retina display. The display itself would carry a somewhat lower native resolution, perhaps 5120 x 2880 to simply pixel double the current 27-inch iMac, but as with the Retina MacBook Pro higher resolutions are specified and generated by the machine before being scaled back down.
The first of these resolutions indicates hexa "00001900 00000e10" is therefore a resolution scaling of ... 6400 x 3600 (probably 3200x1800 HiDPI).
Continues and is 5760x3240 (2880x1620 HiDPI) 4096x2304 (2048x1152 HiDPI), etc..
(There are other resolutions, just make the conversion from hex)

With this alone, it is not possible to guess the native resolution of the machine. This is a resolution that does not appear in the file, since it is native and does not have to be "scaled".
Knowing that there is a gap between the values ​​of 5760 and 4096, one can imagine something between these two (probably 5120x2880, 2560x1440 or in HiDPI), but this is speculation.
As an example of how these higher-than-native resolution options are used, while the 15-inch Retina MacBook Pro has a native resolution of 2880 x 1800 (giving screen real estate of 1440 x 900 as Retina), the system is capable of generating a 3840 x 2400 desktop that is then scaled down to give the real estate of a 1920 x 1200 display.
In the case of this iMac, a similar scenario would see the initial 6400 x 3600 screen scaled to display as 3200 x 1800 on the Retina iMac.
Apple has been rumored to be working on Retina iMacs ever since the debut of the Retina MacBook Pro in 2012, but the company has likely been challenged by the large number of pixels needed for the desktop machine, particularly the 27-inch model. Recent rumors have pointed toward a lower-priced version of the iMac to help address emerging markets, but Retina models are likely also in the works.
As was seen with the MacBook Pro, Apple may initially move to split the iMac lineup with Retina models initially coming in at higher price points alongside existing or slightly cheaper non-Retina model pricing. Over time, the line would be consolidated as prices for the components needed to support Retina displays come down.
(Thanks, Greg!)