Next iPad Air May Include Upgraded A8 Processor, 8 Megapixel Camera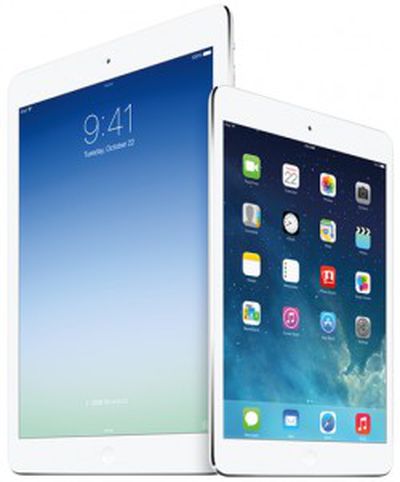 Displays for Apple's next-generation iPad Air are set to begin production this month, reports Korean site ETNews [Google Translation] (via AmongTech), with other major parts such as the camera module also set to enter production soon.
Apple's second iPad Air is expected to continue to feature the same featherweight design introduced with the first iPad Air, using the same 9.7-inch Retina LCD with a resolution of 2048 x 1536. LG Display will begin production on the displays in June, with Samsung and Sharp ramping up production next month.
Though the next-generation iPad Air will not see any design changes, it may see some hardware improvements in the form of an upgraded 8-megapixel rear camera, an improvement over the current 5-megapixel camera. It may incorporate the same 8-megapixel camera used in the iPhone 5s, which also includes a larger sensor for improved low-light performance. iOS 8 will also bring photography updates to both Apple's existing and next-generation iPad Airs, in the form of new panoramic and time-lapse modes.
Along with a better camera, the iPad Air is unsurprisingly expected to include an upgraded A8 processor to improve both performance and battery life and the Touch ID fingerprint sensor first introduced with the iPhone 5s.
It is unclear when Apple plans to release its second-generation iPad Air, but rumors have pointed towards a release in September or October, which would be in line with previous iPad releases. Apple's Retina iPad mini is expected to be updated at the same time, featuring many of the same improvements.