Tim Cook Visits Mac Pro Factory 'Loaded with American Manufacturing Expertise' in Austin [Updated]
While it was revealed yesterday that Apple executives Tim Cook and Eddy Cue had visited the company's new operations campus in Austin, Texas, Cook has just tweeted a photo of a second visit he made to Apple's nearby Mac Pro manufacturing facility.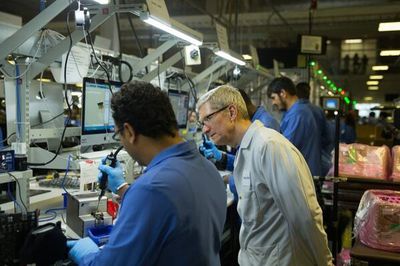 Apple's Mac Pro manufacturing facility is
run by Flextronics
as part of an initiative to bring manufacturing of some Apple products back to the United States. While it is currently a limited effort given the relatively low volume of Mac Pro production, it has received considerable attention.
Flextronics' Mac Pro facility is roughly a mile from Apple's new Austin campus, which is actually an expansion of the company's long-standing operations campus in the city. The campus expansion is major effort that will see Apple investing $300 million to add at least 3,600 workers at the site by 2021. The overall project will encompass roughly one million square feet of space, with the just-opened first phase including two out of a planned six buildings on the site.
Following the visit to Apple's facilities in Austin yesterday, Cue was also spotted in the stands at last night's Game 1 of the NBA Finals just down the road in San Antonio.
Update 9:27 AM: Cook has also tweeted a photo of his (and Cue's) visit with the AppleCare team at the operations campus in Austin.