Apple Making Big Push to Attract Chinese App Developers
China has become a major focus for Apple in recent years, with the company seeing tremendous opportunities for growth in the region and working to build out China-specific software features to help attract users. These features occasionally also receive brief stage time at Apple's media events, as with iOS 8 at this week's Worldwide Developers Conference, highlighting the country's importance in Apple's eyes.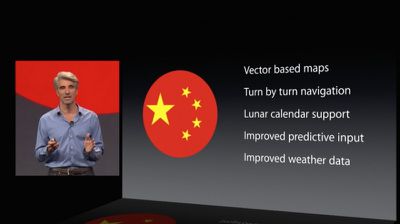 Apple software chief Craig Federighi highlighting China-specific improvements in iOS 8
Apple is also working hard to attract Chinese app developers to its ecosystem, increasing its staff in the country and streamlining the customer experience,
according to Bloomberg
.
Since 2011, Apple has steadily beefed up its developer-relations team in China so new apps can be approved in the country, and it has opened a new office in downtown Beijing where the China App Store is operated. Apple has also smoothed the process for how customers buy apps in China, and built new Chinese-language-specific software to benefit developers.
The report highlights Apple's fifth-place market position for smartphones in China as motivation for Apple's initiative. Apple's ecosystem in China has also been challenged by the fact that many apps designed for Westerners don't translate well to the Chinese audience, with many developers not even making their apps available in the country. As a result, Apple's Chinese App Store includes just 150,000 applications, far fewer than the over one million apps available in the U.S. store.
"On a scale of one to 10 in terms of importance in China, it ranks at about 11," Ramon Llamas, an analyst for IDC who tracks the mobile industry, said of Apple's app development. "Nobody buys a smartphone just for it to be a phone -- the value of your device goes up with the more applications that you download on to it."
Apple's efforts to attract more Chinese developers do appear to be paying off, with the country now ranking number two behind the United States in App Store download volume and the number of registered developers in China doubling over the past year. Still, it's clear there is much more potential left in the Chinese market for Apple, and the company is working hard to capture developers and users alike to boost its standing.