LaCie has upgraded its Rugged Hard Drive, adding an integrated Thunderbolt cable and improved damage resistance. The SSD version, available in 250 and 500GB capacities, achieves transfer speeds of up to 387MB/s. There is a USB 3.0 interface as well, though only the Thunderbolt cable is permanently attached.
The integrated Thunderbolt cable allowed LaCie to increase protection against water and dust because the dust cap can be left on even when the device is in use. When not in use, the bus-powered Thunderbolt cable tucks into the case and is protected by the cover. LaCie says the SSD version of the drive can withstand up to two-meter drops and conforms to the IP54 durability standard. LaCie has also increased the warranty from two years to three.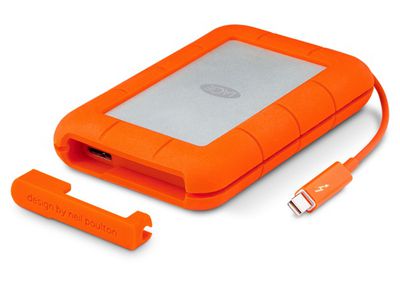 "My assignments take me to the top surf spots all over the world," said Surfer Magazine staff photographer Zak Noyle. "So it's imperative that my equipment is ready for any challenge. The LaCie Rugged's speed allows me to deliver projects quickly, and its resilience to water, sand and drops make me confident that my photos are protected. From the beaches of Oahu to Tahiti, the LaCie Rugged has never let me down."
The new LaCie Rugged drive goes on sale today in 250GB ($300) and 500GB ($500) solid state versions, plus 1TB ($220) and 2TB ($300) 5400RPM hard drive versions.