iWatch Component Production Said to Start Gearing Up This Month, September Launch Speculated
Production of components for Apple's iWatch is reportedly starting later this month, leading to speculation by Cantor Fitzgerald analyst Brian White that the device will see a launch as soon as September alongside the iPhone 6.
With the theme around wearable technology at Computex this year, our research has uncovered more data points as it relates to Apple's "iWatch." Our meeting with a tech supply chain company highlighted that initial production of certain "iWatch" components is scheduled to begin later this month and there are plans for a sharp acceleration into fall.

Given the trajectory of this ramp and our experience analyzing other product ramps at Apple, we expect the "iWatch" to be unveiled with the iPhone 6 in September. Since our research suggests the first iteration of the "iWatch" is more of a companion device, and thus requires a connection to an iPhone, we believe unveiling the two new devices at the same time makes sense.
White believes the iWatch will be available at several pricing increments much like the iPhone and the iPad, indicating that prices could start at $199 to $229 to compete with other smart watches currently on the market.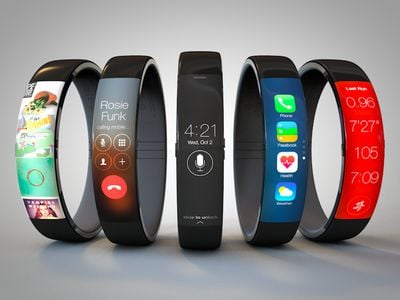 Several other rumors have pointed towards a fall launch for the iWatch, with KGI Securities analyst Ming-Chi Kuo
predicting
a third quarter launch, which has also been echoed by various Asian news sources including the
Economic Daily News
and
Digitimes
. Apple is also likely aiming for a fall launch for its 4.7-inch iPhone 6, which could see the two devices unveiled together.
Little physical information has surfaced on the iWatch thus far, but supply chain rumors have suggested the device will come in two separate sizes (1.3 inches and 1.5-1.7 inches) to accommodate different sized wrists. It is also said to include a multitude of biometric sensors to measure various health metrics and it is also expected to interface with the new Health app in iOS 8.
White also believes that the 5.5-inch iPhone, which was rumored to be delayed due to production issues, could launch alongside the 4.7-inch iPhone and the iWatch. He released a report detailing his reasons yesterday and today confirms that research is "uncovering more evidence that the 5.5- inch iPhone 6 will launch this fall."
Having previously predicted seemingly outlandish products such as the "iRing" able to control an Apple television set, Brian White does not have a particularly solid track record when it comes to predicting Apple's plans, but with multiple rumors converging on a fall release date for both the iWatch and the two versions of the iPhone, it is possible we will see all three products before the end of the year.