Earlier today as Apple was unveiling OS X Yosemite for the first time at the Worldwide Developers Conference, software chief Craig Federighi announced that there would be a public open beta for the new operating system ahead of its launch this fall. Now, users on our forums have discovered an AppleSeed sign up page for the program, with Apple noting that the program is open to the first one million users who register.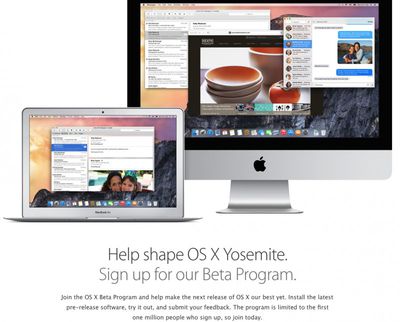 How can I participate?

To join the OS X Beta Program, just sign up using your Apple ID. When the beta software is ready, you'll receive a redemption code that will allow you to download and install OS X Yosemite Beta from the Mac App Store. Then go ahead and start using it. When you come across an issue that needs addressing, report it directly to Apple with the built-in Feedback Assistant application.
Users will also need to be running OS X Mavericks, and Apple recommends that the OS X Yosemite beta be installed on a secondary Mac in the event of possible bugs and errors.
OS X Yosemite includes a brand new user interface design alongside major new features focusing on seamless integration between Mac and iOS devices. The new operating system also includes a new cloud storage solution called iCloud Drive, as well as the ability to make phone calls and texts through an iPhone.