iMac Shipping Times Slip to 3 -5 Days, Fueling Rumors of 'Low-Priced' Model at WWDC
Ahead of WWDC 2014, shipping estimates for Apple's iMac models have slipped to 3 to 5 business days, fueling speculation of a possible announcement of new iMac hardware next week. As noted by AppleInsider, dwindling inventory is also evident at authorized Apple resellers, with some retailers selling the latest iMac models with steep discounts.
As we have seen with Apple may be clearing out inventory Amazon is completely sold out of the base-line 21.5-inch and 27-inch models, relying on third-party resellers who only have a handful of units left in stock. MacMall is also down to its last units on the 2.9-gigahertz 21.5-inch model, and the 3.4-gigahertz 27-inch model.
While movement in product shipping estimates is historically a hit-or-miss indicator of imminent updates, the slip to 3-5 days over the weekend is not the only factor contributing to speculation of iMac updates. KGI Securities analyst Ming-Chi Kuo has been predicting for some time that Apple will launch a "low-priced" version of the iMac, and his extensive product roadmap published last month showed the new iMac debuting at the end of the second quarter, which would be next month. Kuo argues that this new iMac with cost-efficient hardware to keep the base price low would offer Apple a way to increase its market share in Asia and other critical foreign markets.
Mac updates have generally been somewhat in flux as Intel has experienced delays with its next-generation Broadwell chips. While the company has been releasing interim "Haswell refresh" chips in recent months, these chips offer minimal improvements over their predecessors. Just last month, Apple released a minor MacBook Air update using one of these new chips, but more importantly reduced pricing by $100. The company could make a similar move with the iMac in the coming weeks.
Exact timing for iMac updates remains uncertain, as it is still a bit early for a launch based on historical update cycles. The iMac has also not played a role in recent WWDC product launches, perhaps due to its consumer focus compared to the professional/developer emphasis for the conference. Consequently, an iMac price drop with minor spec bumps could come in the weeks after WWDC, similar to the quiet MacBook Air update last month.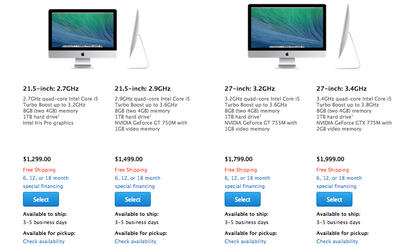 Apple last refreshed the iMac in September 2013, following a major redesign in 2012. The current iMac model features Intel Haswell processors, faster PCI Express-based flash storage and 802.11ac Wi-Fi connectivity. Prices start at $1299 for the entry-level 21.5-inch iMac and climb to $1799 for the base 27-inch model.