3D Print Your Own 4.7-Inch iPhone 6 Mockup with These $25 Plans
Following our feature yesterday sharing photos of a case and 3D-printed physical mockup of the 4.7-inch iPhone 6, designer Martin Hajek is selling his own set of 3D files for a similar model, priced at $25. The files allow anyone interested in trying out how the alleged design feels in the hand to print their own mockup.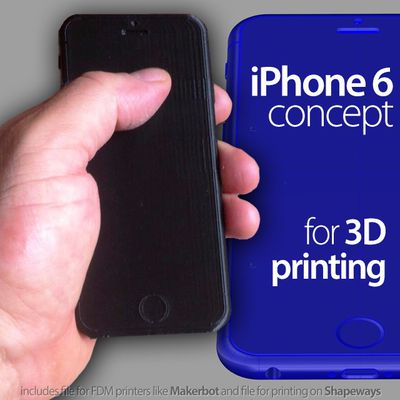 Hajek's $25 package is available through TurboSquid and includes an .STL file for 3D printing as well as .3DS and .OBJ modeling files. For users interested in printing their own physical mockups, quality will obviously depend on the quality of machine used for printing, but the .STL file is compatible with a wide range of machines and services.
The design is based on the leaked concept by MacFan magazine.

Download this file, 3D print it and see what the new iPhone will look like for yourself!
Don't own a 3D printer? Don't worry - a version of the model fit for the Shapeways 3D printing service is included!
Based on our experience with our 3D-printed mockup, we are continuing to refine our own model and may freely release those 3D files in the future.
Availability of iPhone 6 files for 3D printing comes as physical mockups have been appearing in increasing numbers. French site Nowhereelse.fr has been sharing several other photos on Twitter, while regular parts source Sonny Dickson has shared a few of his own images.
While there are a variety of cases and mockups all pointing in the same direction for the design of the iPhone 6, it is important to remember that most of these products are essentially all based on the same sets of leaked design drawings, and they ultimately may or may not prove correct.
Leaked cases and accessory company mockups have generally proven accurate over the years, although they were famously incorrect in 2011 when a tapered design led to numerous cases being produced to fit that design. Ultimately, Apple released the iPhone 4s with essentially the same design as the iPhone 4, and the tapered has not been seen since, although one report indicated that it was in fact a real prototype design that was scrapped by Apple.