Following a concept that showed off a possible look at the iPhone 6 based on recent leaked info, French website Nowhereelse.fr [Google Translate] and graphic designer Martin Hajek have once again teamed up to showcase renders for an "iPhone 6s" and "iPhone 6c", which are based off of Apple's current iPhones and alleged iPhone 6 design drawings posted by Japanese magazine MacFan.


The renderings show iPhone 6s devices in gold and space grey colors, which retain the same tint as seen in the corresponding iPhone 5s models but adopt the thin, rounded profile that has been rumored for the iPhone 6. Like the previous renders, the power button is located along the upper right side of the device, with the iPhone 6s sporting rectangular volume controls similar to that of the fifth-generation iPod touch.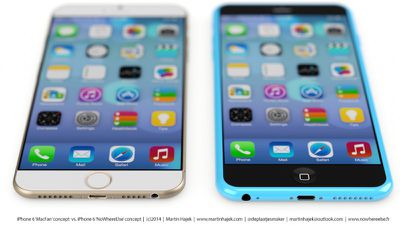 Renders for an iPhone 6c concept are also shown, which depict the device in the same blue colorway adopted by the iPhone 5c. Like the iPhone 6s, the iPhone 6c appears to have the same rounded profile with similar button placements, but is shown with a glossy plastic enclosure instead of an aluminum one. The concept is also similar to iPhone 6c renderings done by designer Ferry Passchier, who we commissioned to rethink the rumored design of the iPhone 6 as if it were modeled after the iPhone 5c with colorful plastic backings.


Apple is expected to launch the iPhone 6 later this year in two different sizes of 4.7 inches and 5.5 inches. Recent reports have noted that the smaller 4.7-inch version will ship in the third quarter of 2014, while the larger version may ship later this year or early next year due to issues with the device's display and battery.
Along with a larger screen, both models of the next-generation iPhone are said to feature a thinner profile, new A8 processor, Touch ID fingerprint sensor and an improved camera with optical image stabilization. According to a claim from Jefferies analyst Peter Misek, Apple is also negotiating with carriers to increase the price of the iPhone 6 by $100.