Apple Highlights Video Detailing Environmental Friendliness of Campus 2 Project
As part of the "Better" environmental campaign that was initially unveiled this morning, Apple has posted a video of its Apple Campus 2 project, displaying a series of renderings of the building along with some details on the site from campus designer Norman Foster.
Foster speaks on Jobs' inspiration for the campus, noting his love of both Stanford and the area that he grew up in. "The idea is to bring California back to Cupertino," said Apple's senior arborist David Muffly, who is in charge of the flora that will be added to Apple's campus.
Along with the video, Apple
outlines its plans
to make its second campus more environmentally friendly. The site will be "the most energy-efficient building of its kind," powered by 100 percent renewable energy sources, including a massive solar energy installation.
The company also plans to have huge amounts of open space, which will be accompanied by both fruit and shade trees, and commute alternatives will see 15,000 Cupertino employees using biofuel buses, public transit, bikes, and more instead of cars.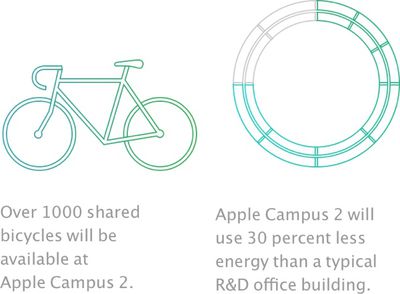 The building itself is just part of the story. Just under 80 percent of the site will be open space, populated by more than 7000 trees — including more than 6000 newly planted shade and fruit trees. Drought-tolerant plants will be used throughout the landscape to minimize water use.
While the Apple Campus 2 video shared by Apple was initially unveiled in October during a session with the City of Cupertino, this is the first time Apple has released the video in high quality to the public. Apple is hoping to complete its second campus by 2016.