New Model Offers Detailed Look at Apple's Upcoming 'Spaceship' Campus [Updated]
Apple's proposed Apple Campus 2, now in the final planning stages, can be seen in detail in new model photos provided by San Jose Mercury News. The 4-story circular building, which Steve Jobs famously described as "like a spaceship," encompasses more than 2.8 million square feet and is designed to house upwards of 12,000 employees.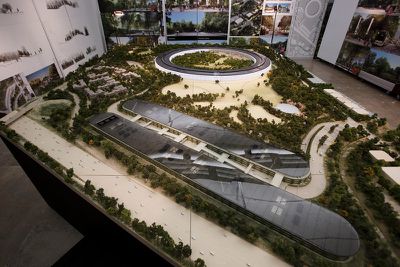 As seen in the model, the campus includes the main spaceship building with curved glass windows and polished concrete ceilings, several auxiliary buildings, a massive parking structure topped with solar panels, an underground parking lot, and a huge number of trees. In addition to the main working area, the plans include an auditorium for events, a fitness center, and additional space for research and development. Apple's Chief Financial Officer, Peter Oppenheimer, was on hand to give some details about the campus.
"You see the energy and the love and the attention to detail that we've put into this," he told this newspaper during a sneak-peek of a top-secret, living-room sized model of the building. "We have treated this project just as we would any Apple product. And this will be a place for the most creative and collaborative teams in the industry to innovate for decades to come."

"The concept of the building," said Oppenheimer, "is collaboration and fluidity. It'll provide a very open-spaced system, so that at one point in the day you may be in offices on one side of the circle and find yourself on the other side later that day."
Though only the main buildings will be constructed during the first phase of the project, Apple has plans to add additional buildings to house extra employees at some point in the future.
Following an early October approval from the Cupertino Planning Commission, the campus is still subject to a vote from the Cupertino city council on October 15 and a final vote on November 19. If all parties involved approve the construction, Apple will remain on track for a 2016 debut of the new structure. A full gallery of the model can be seen on the Mercury News site.
Update: As noted by TechCrunch, Apple has begun sending out brochures asking residents of Cupertino to support the new Apple campus by emailing the Cupertino city council and attending the October 15 vote. The company says that it intends to break ground shortly after the campus is approved.
Update 2: The City of Cupertino has posted a nearly three-hour video (via MacGeneration) of the October 1 session discussing Apple's Environmental Impact report on the new campus project. The session includes a presentation by Apple Senior Director of Real Estate and Facilities Dan Whisenhunt, with a brief overview video beginning at the 8:15 mark in the session video.