Apple's Shazam Partnership Could Boost Advertising Efforts
Earlier this week, Bloomberg reported that Apple has plans to integrate song identification features into iOS 8 through a partnership with audio discovery platform Shazam, but as suggested by media professor Aram Sinnreich, Apple's ambitions may go beyond simple music recognition capabilities.
Speaking with Computerworld, Sinnreich, a media professor at Rutgers University, points out that Apple could use Shazam's audio recognition abilities to gather information on the media that iPhone and iPad users are consuming, including music, television shows, movies, and more, for targeted advertisements.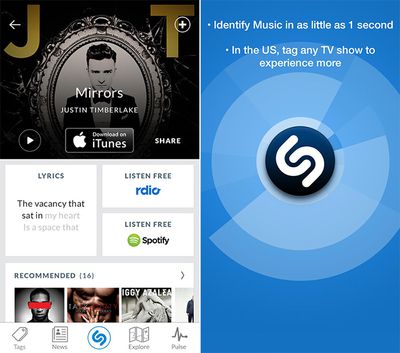 While Shazam is known for identifying songs that are playing on the radio or through other sources, the service is also capable of identifying and tagging television shows and advertisements. Shazam works by analyzing captured sound and comparing its acoustic fingerprint to an audio database, which began including television content in 2012.
Shazam's technology could, of course, be used to deliver music and television information to consumers, providing identification along with additional content like news, facts, and iTunes purchase links, but at the same time, Apple could also use it to gather information on consumer preferences each time a song, television show, or advertisement is "tagged" or identified by a user, allowing the company to use those preferences to deliver more targeted ad suggestions across iOS.
Sinnreich pointed out that Shazam has been indexing advertisements broadcast on television, as well as the pre-show ads shown in movie theaters, and in some cases, has stuck deals with advertisers to provide metrics of those who "tag" an ad. In some cases, tagging an ad presents the consumer with additional information, or even a special offer.
Currently, the existing Shazam app is able to run in the background of iOS, continually cataloging and identifying all of the music, television shows, and TV ads that a user watches. Apple could potentially integrate the feature in the same way into iOS 8, allowing it to run in the background to continually listen for various audio content.
This functionality would allow Apple to know what a user prefers to watch and listen to. For example, if someone was watching
Downton Abbey
or
Game of Thrones
, Apple's media recognition capabilities could theoretically automatically identify what's being watched, cataloging it for future use in advertisements. Sinnreich likens this functionality to an audio QR code.
"Apple could do whatever a QR code is used for now, but sonically," said Sinnreich of the audio fingerprinting technology. "Someone tags a commercial, and that's entered into a database, effectively targeting [that consumer] for further ads," he said.
While Sinnreich's theory is mere speculation at this point, it does fit in with Apple's current advertising methods, which the company says include "exceptional targeting." Apple has been working to expand its iAd platform in recent months, moving beyond app advertisements to encompass iTunes Radio ads as well. Further improving its targeting methods could entice major advertisers, which has been the company's goal -- recently, Apple made it simpler for advertisers large and small to sign up for the platform, eliminating the need for a developer account.
Apple's audio recognition capabilities are said to be coming alongside iOS 8, which is expected to make its debut during the company's Worldwide Developers Conference in June. The operating system will likely be released to the public later in the year, in September or October.