Apple Working With Shazam on Song Identification Capabilities for iOS 8
Apple is working on a song identification feature as a new addition to iOS 8, reports Bloomberg. The company has plans to partner with music discovery service Shazam to offer users a way to discover a song that is playing on the radio or from another source, such as a TV, using a small music clip.
The company is planning to unveil a song-discovery feature in an update of its iOS mobile software that will let users identify a song and its artist using an iPhone or iPad, said two people with knowledge of the product, who asked not to be identified because the feature isn't public. Apple is partnering with Shazam Entertainment Ltd., whose technology can quickly spot what's playing by collecting sound from a phone's microphone and matching it against a song database.
Along with Shazam, several other apps, including SoundHound, offer music and media identification capabilities. The apps use the iPhone's microphone to listen to short sound clips, matching songs against a database and providing additional information like lyrics and purchase links.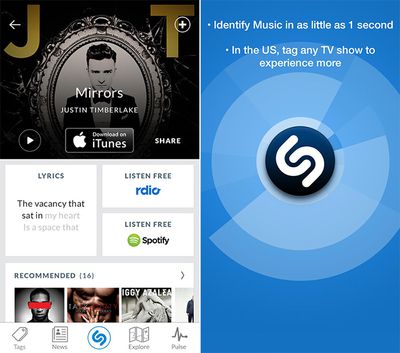 The existing Shazam for iOS app
Shazam
is also capable of recognizing television shows and other media, so it is possible Apple's iOS identification feature could offer similar capabilities. According to
Bloomberg
, the feature will be directly integrated into iOS and will not need to be downloaded as a standalone app. It will function with Siri, allowing users to ask what song is playing.
The song-identification feature will be integrated into the mobile software in the same way that Twitter's service is currently incorporated, meaning consumers don't need to separately download it. Among the ways it can be used will be through Apple's voice-activated search feature, Siri. An iPhone user will be able to say something like "what song is playing," to find out the tune's details, one person said.
Earlier this month, it was reported that Apple has plans to revamp its iTunes music store in order to boost flagging digital music sales. The company is said to be considering iTunes for Android and an on-demand streaming music service similar to Spotify. A song identification feature could be released as part of the same iTunes overhaul, and it's also possible that high resolution song downloads are in the works.
Apple traditionally previews its operating system updates during its annual Worldwide Developers Conference and iOS 8 is expected to make its initial debut on June 2, during the 2014 conference.