iPhone Remains Popular With Teens as iPad Interest Plateaus
Apple's iPhone continues to grow in popularity with U.S. teenagers, according to Piper Jaffray analyst Gene Munster's latest semiannual teen survey [PDF], which asked 7,500 teens about their device preferences. 61 percent of teens now own an iPhone, compared to 55 percent from a survey conducted in October 2013 and 40 percent in the fall of 2012.
67 percent of teens expect their next phone to be an iPhone, up slightly from October's survey. When it comes to tablets, 60 percent of teens own one, up from 56 percent in the fall. 66 percent of those own an iPad (55% full-sized, 11% mini), which is down slightly from 68 percent, with ownership shifting further towards the mini. 18 percent of teens who don't own a tablet expect to buy one in the next sixth months and of those prospective buyers, 66 percent plan to choose an iPad.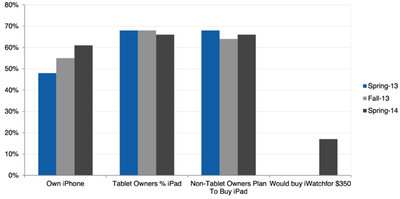 The Spring 2014 survey also covered prospective teen interest in an Apple smart watch, which the company is said to be developing. Of the 7,500 teenagers surveyed, six percent currently own a smart watch and 17 percent of teens would buy an iWatch if Apple were to sell it for $350 or less.
The bigger takeaway from our survey is that 17% of teens suggested they would be interested in an iWatch, which we believe is an indication of consumer thirst for not only the iWatch specifically, but the new product categories that have been promised by Apple.
In the past, Samsung has attempted to position its Galaxy phones as the choice for teenagers by portraying the iPhone as "uncool," but this marketing tactic appears to be largely unsuccessful given the segment's growing interest in Apple products.
Despite the iPhone's popularity, the iPad has become slightly less popular with teenagers as competitors like Google and Kindle have released more affordable options. Android tablets in particular have seen consistent growth among teens, even after the launch of the Retina iPad mini and the thinner and lighter iPad Air.