Apple has filled a position of privacy counsel with a lawyer experienced in customer privacy, data protection, electronic surveillance, information security and more. Sabrina Ross, a former associate at both Ropes & Gray and Sidley Austin, joined Apple this month according to her LinkedIn page (via AppleInsider).
Ross is a certified privacy professional, professing expertise in Internet and information law matters including privacy and data protection. As it moves more and more into online services including iCloud, Apple is increasingly concerned with privacy matters, including national surveillance by the NSA. Apple CEO Tim Cook told ABC News that Apple executives would need to be carted out "in a box" for the company to allow governments unfettered access to its servers.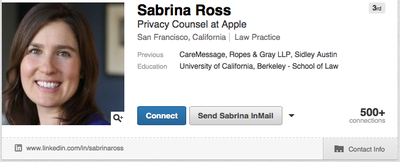 A certified privacy professional, CIPP/US, I have experience with a wide-range of Internet and information law matters involving privacy and data protection, online brand protection, electronic surveillance, defamation, information security, cloud computing, social media, locational privacy, e-commerce, and national security. I am passionate about addressing these issues with both business acumen and an eye towards litigation strategy.

My practice includes developing privacy compliance systems, creating privacy/data security training and policies, conducting risk analysis in the merger/acquisition context, and providing compliance counseling regarding the state/federal/international privacy law landscape.
Ross' CIPP/US certification is the first professional certification to be offered in the field of information privacy, covering the U.S. legal system including federal laws for protection of personal data, privacy marketing practices, state laws covering data breach notification and other privacy implications, as well as privacy in the workplace.